Focus is on unselfishness and chemistry for Wildcats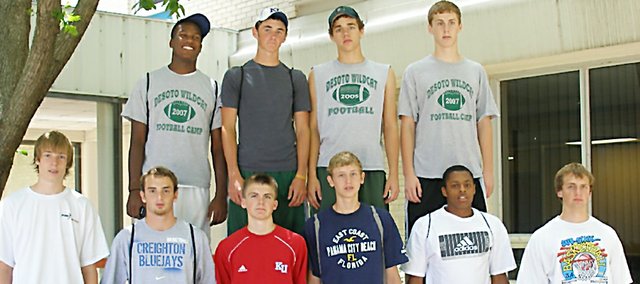 From time to time in summer league prep basketball, especially throughout the AAU circuit, coaches battle selfishness. The reality is, selfish basketball allows kids to score more points and - perhaps in their mind - stick out in front of college coaches.
Not so for De Soto High basketball players competing in summer tournaments, team camps and a Bonner Springs league under the guidance of coaches John Mello and Mike Wedel. The team has amassed an 18-13 record with two Bonner Springs league games left to play.
The emphasis of this Wildcats squad is on unselfishness and improving team
chemistry.
"They're great kids, who play unselfishly and play hard. They have great camaraderie," Wedel said. "Because they did lose some players from last year, it gives them the chance to use the summertime to get to know each other better and play a lot of games together."
As the team will have to replace its leading scorer from a year ago, and its starting point guard, the foundation for success this winter may be being laid right now.
That foundation has seemed to be solid at several points throughout the summer. De Soto placed fourth out of 14 teams at the Lawrence Mid America Youth Basketball tournament, going 5-2 and defeating several foes it will face in Frontier League action in the winter.
So far in the Bonner league, the team is 5-2 - two 1-point losses, no less - against area teams it will face throughout the year.
Also, for the first year since coach Jim Bonar has been at De Soto, the Wildcats organized and went to a team camp at Creighton University. The camp consisted mostly of playing other teams, but the Wildcats were able to face other high school teams instead of all-star squads like at other tournaments throughout the summer.
Then at the Bonner Springs MAYB tourney, the Wildcats took second.
The biggest improvements throughout the summer, in Wedel's eyes, have been defensively. The team employs a man-to-man defense for the most part, which requires some understanding of when to help off certain offensive players and how to rotate when that is done. That is one aspect of the game that has been aided by the Wildcats participation in so many games.
However, all the improvements, whether it be team defense or individual skills, follow from that first goal of learning to play together.
"We don't have a lot of time to practice. You're just playing a lot of games," Webel said. "So really it's just getting to know what the other guy is going to do on the court and getting comfortable, then through the process they do have the opportunity to hone all their skills in a game-like situation."
The summer schedule wraps up at 7 p.m. Thursday at Bonner Springs High School.