Golf rained out, set for Lansing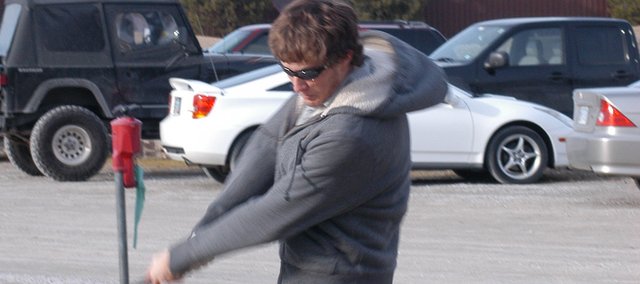 The forecast of severe weather throughout the day caused Gardner Edgerton administrators to cancel the Blazer Invitational originally scheduled for Monday.
The Wildcats' season got underway March 27 at a Bonner Springs tournament at Sunflower Hills Golf Course.
Senior Scott McKechnie took fifth place. At the end of the nine-hole round junior Charlie Modereger, McKechnie and four other golfers were tied for the fifth place medal at 45.
The deciding factor in this particular tournament was a scorecard tiebreaker, in which the winner is the player with the best scores on the toughest holes of the course.
"I thought we competed very well," coach Chad Brecheisen said. "One of my seniors brought home a fifth-place medal. It doesn't get any better than that."
De Soto finished third as a team, behind first place Ottawa and second place Blue Valley.
"With the weather, for them to shoot a 45 on a day like that, it was really, really good," Brecheisen said. "Compared to last year, starting out and being able to focus on a miserable day, to play that well I was very pleased."
Another bright spot on the day was the performance of freshman Brett Williams, who shot a 50. Sophomore Alex Crall added a 47.
Monday the Wildcat golfers travel to Leavenworth Country Club for a tournament with Lansing, Basehor-Linwood, Bonner Springs, Immaculata, Mill Valley, Ottawa, Piper, Tonganoxie and Topeka Hayden. Tee-off time is at 3 p.m."
More like this story