Above and beyond
Cat senior breaks away for chance to shine alone
Blame it on state -- that golden goal at the end the road in every high school athlete's dreams.
Not once, twice Hannah Konetzni has made the trip to the Class 4A state tennis tournament. Both times she came away changed -- brimming with new goals, new ideas and new dreams.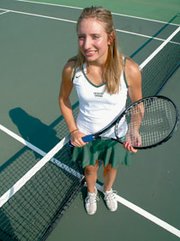 Those trips could seem inconsequential compared to what Konetzni has laid on the table hoping to make it three trips, however.
The De Soto senior first grew to love tennis. A year later she learned to see it as her future. Now she hopes to first secure a final trip to state, and once there fly her name as one of Kansas' best.
"I think I have a chance," Konetzni said. "From the matches I've gone to, I've only lost to one (Class) 4A opponent, and that was just a really bad day."
Two things had to happen for Konetzni to even be talking that confidently. First, she realized she wanted to make tennis her future. Second, she started playing well enough to make that a reality.
By no means did they happen at the same time, however.
Konetzni was good in her first three years in the tennis program. She proved a valuable part of the team as she joined Stephanie Hoover in to place 10th at state in the doubles division, helping the team to an overall third-place finish, the best finish in the program's history.
A year later, Konetzni again qualified for state as a member of a doubles team, this time playing with then-freshman Suzie Gulley. The pair didn't medal.
She said just making it to state -- even as disappointed as she was last season -- helped her realize her love for the sports, however.
"The first time I made it to state, that was a complete surprise," Konetzni said. "It was my first year on varsity and I had no idea state was even an option. It seemed like this big word everyone talked about, but nothing never happened."
With a change in dedication came a change in attitude. The then-junior had insisted on playing doubles her junior year and seemed wary of singles action all the way through the end of the season.
A high school resume with a little experience in both disciplines goes a lot further when it comes to college scholarships, however, so she made even more decisions after the season.
First, she decided to quit the soccer team.
"I'd played soccer for 10 years, so it was really weird," she said.
But this time, weird paid off and helped wipe out Konetzni's affliction to playing singles.
"We ended up switching tennis clubs after the tennis season and they were a lot better about teaching strategies," she said. "We sit down in the middle of class and spend 15 or 30 minutes talking notes during our play time and I learned a lot more.
"I became more confident in playing."
By the time August came around and the high school tennis season was firing up again, De Soto coach Michael Sullivan said he had a whole new player on his hands.
Konetzni immediately took to singles and after a single hiccup in the season's first tournament, she cruised.
She lost her second match of the year, but won the next 10, rarely even being challenged.
She lost to a Class 5A state player in Lansing's Amy Briggs, but has since rebounded with three more solid victories.
"I was perfectly fine with it, especially after seeing that she's a lot better player now," Sullivan said. "I noticed it on the court by watching her, but last week she came late to practice and stayed late to hit with me. It was the first time I actually got to hit with her for real and I could tell a difference.
"She's gotten a lot better -- more accurate, more pop on the ball, better placement and pace."
She'll take soccer back up in the spring and soon, the goal will college, she said.
She's eyeing NCAA division 2 schools, and would love to play at her mother's alma matter, Emporia State.
For now, it's state, however.
"I really would love to make it to the championship," she said of the season-ending tournament. "I'd love for our team to get first or second, and I'd love to get first or second personally, too."