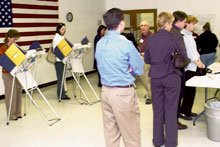 A line of De Soto residents wait their turn to vote Tuesday as
others take their turn at three voting machines in the Community
Center. At shortly before 5 p.m., workers at the Community Center
and De Soto VFW polling places reported 400 people had voted. The
De Soto Baptist Church reported 300 on its list had cast ballots
with a steady stream still coming to the polls. The turnout in De
Soto, where the De Soto USD 232 bond proposal was thought to be
unpopular, could have contributed to its narrow defeat. Precinct
totals won't be known until next week.