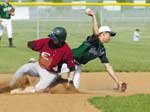 De Soto infielder Austin DeGraeve gets a force out on Eudora's Mark
Abel but is unable to complete the double play in the first game of
a doubleheader Tuesday that determined the Frontier League
championship. The visiting Cardinals won an 11-9 slugfest and
prevailed in the second game as well. The Wildcats now move on to
the 4A regional where they face Piper at 3 p.m. Monday at the
T-Bones stadium in Kansas City, Kan. De Soto finished the regular
season 13-7.