Museum plan calls for transformation into national attraction
Leaders say vision cannot happen at museum's current Shawnee facility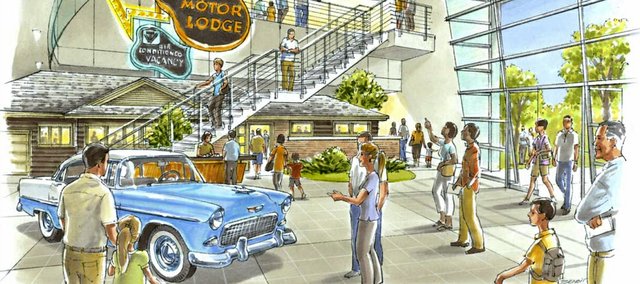 The Johnson County Museum of History envisions moving out of its current Shawnee location and building a new, $44 million National Museum of Suburbia from the ground up.
More realistically, the museum will keep looking for an existing Johnson County building it can renovate and grow into a national museum one phase at a time.
Either way, the museum's plans call for escaping the 1927 structure at 6305 Lackman Road.
"There's not room for us to expand, even if we wanted to stay there," said Mindi Love, the museum's executive director. "It doesn't work very well for our mission, and for the vision we have for the future."
On Thursday, Love presented the Johnson County Board of Commissioners with the museum's 2011 master plan, which includes estimated construction costs, fundraising goals and attendance numbers required to build and sustain a National Museum of Suburbia and Suburban Policy Forum.
While commissioners generally supported the vision — and helping the museum find better quarters — they shot down the possibility of bankrolling an all-new museum in the immediate future.
"That's not on our radar screen, let me put it that way," Chairman Ed Eilert said. "But we'll continue to think about other possibilities."
The museum's 2008 master plan introduced the idea of creating a center for suburban studies, Love said. Museum leaders have since undertaken a community survey, met with stakeholders, visited Washington, D.C., museums and hired a consultant.
The vision
Sketches for the current vision include a large lobby — decorated with the museum's White Haven Motor Lodge sign and 1955 Chevrolet Bel Air — that would double as an event space, and an auditorium that could accommodate museum or county events as well as community productions. The story of Johnson County, described as an "archetypal suburban community," would be one of multiple exhibits set up to depict the history of suburbia nationwide, from physical design to critiques of various aspects of suburbia. Plans also call for a hands-on children's exhibition.
The museum wants to improve its current missions — including community programming and research opportunities — and to become a nationwide destination, consultant Guy Hermann of Museum Insights told commissioners.
The Suburban Policy Forum would be a place to discuss the future of suburbia, Hermann said. But unlike some think-tank type organizations, it would aim to actually connect researchers with decision-makers such as elected officials and developers. It might even host design competitions for real suburban development projects.
The museum estimates it needs 56,000 to 70,000 square feet to realize the vision.
It would cost an estimated $34 million in county funds to build (or 10 to 30 percent less to renovate an existing building) with another $9.7 million in fundraising to create exhibits and an endowment. If attendance rose as anticipated, and admission fees were instated, annual operating expenses would increase from $1 million to $1.5 million.
Aging accommodations
The museum's current facility was built in 1927 to house the two-room Greenwood School but has been added onto about nine times, Love said. The county purchased the building in 1964, and the museum opened in 1967.
About 1,500 square feet of the 20,000 square-foot building was damaged when it flooded in 2009, Love said. No longer acceptable for the public, the space is now used for storage.
The museum also has about 4,000 square feet of storage area at an off-site location in Olathe. Some offices are off-site, as well.
Finding a new home
Not only does the museum struggle with space, its current location has poor visibility, Hermann told county commissioners.
Not unlike retail stores, the museum wants a new home that's close to population centers, other amenities and possibly a historic area, Hermann said. Also, its design should be recognizable.
There are plenty of empty office buildings, but unfortunately they aren't a good option, Hermann said. Not only do they lack distinctive design, they usually don't have high enough ceilings to install exhibits.
While the museum previously envisioned moving closer to the center of Johnson County's population, Love said a location closer to Kansas City — possibly in the older part of Johnson County as opposed to Olathe, for example — would be better for a national museum hoping to attract outside visitors.
So far, Love said, the museum hasn't found much.
"We're looking county-wide," Love said. "As a county museum, we certainly are not committed to stay in Shawnee, but that certainly doesn't preclude Shawnee from our search."
Commissioner Michael Ashcraft commended the museum's attempt to reach for the next level, saying the plan does deserve a continued look. However, he said the county has other big-ticket requests — including new library branches and more space for the courts — and called the price tag for the museum's vision a challenge, "today and probably for some time in the future."
"I appreciate your visioning success," Ashcraft said. "It's the implementation that will be a challenge."
More like this story