Hopefuls bring song, dance, a few nerves to auditions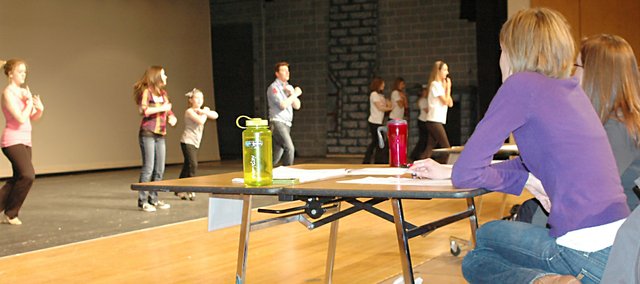 Inside Blue Valley High School in Stilwell, there were girls in dresses, boys in vests and men with black ponytails and tight-fitting jackets all seeking a shot.
Periodically, announcements came over a loudspeaker.
"Remember, callbacks will be posted online Wednesday. If you do not get a call back, that doesn't mean you didn't make it. They may be waiting for the right role for you."
Before auditions for Theatre in the Park's 42nd season began Saturday morning, more than 1,000 people — a record by Theatre officials' estimation — had signed up to vie for a spot in one of the season's four shows.
Some rocked back and forth on the balls of their feet, smiling nervously at Dad.
In the auditorium, roles reversed as Robert Hingula of Shawnee and his 8-year-old daughter, Darcie, stood in front of each of the shows' choreographers and danced.
"Usually I'm the one looking at her," Hingula said.
Both had been here before, waking up at 7 a.m. to prepare one more time after practicing all week. By now, Darcie — who previously appeared in "Oklahoma" and "All Shook Up" at Shawnee Mission Park — had a favorite warm-up song picked out: "Misery Business" by Paramore.
After exiting the stage, Hingula, an attorney for a Kansas City, Mo., law firm, looked down at his daughter.
"Do you get nervous?" he asked.
"No...not all the time," she said. "Well, sometimes."
Darcie wants to perform in "Les Miserables: School Edition" — specifically as Cosette.
"I just want to be one of the main characters," she said.
Darcie, a second-grader at Clear Creek Elementary School, followed her dad's footsteps. Hingula first tried out for theater in the mid-1990s in high school in El Paso, Texas. Like his daughter, Hingula's interest began with his father's appreciation for Broadway musicals.
"It goes back to what music you grew up with," he said. "Plus, I wasn't coordinated enough to be an athlete."
The Hingulas were the first hopefuls this season's executive director, Tim Bair, visited during auditions. Clad in a thick, patterned sweater, Bair danced and tapped to each person he visited with whenever music sounded in the auditorium. He said it was meeting this year's hopefuls that he most looked forward to before the weekend.
Bair became executive director last November. He first performed for Theatre in the Park in the 1980s. Theatre took him to New York City and it also brought him back home to again be part of what those involved with Theatre in the Park call a family and community.
Bair, who also previously directed theater at Blue Valley High School, said this year's audition location was a good fit because people "can escape to quiet places" before or after auditioning.
Directors and choreographers, though, stayed put for much of the two days. Singing auditions were staged in a quiet room before a dozen sets of eyes.
In the auditorium, "Les Miserables" director Ann McCroskey — who performed with Bair in past Theatre in the Park shows— joked that they tried to find a song they wanted to listen to "over and over." Because when each new group of dancers lined up every few minutes the song's sassy, vibrant lyrics of Whitney Houston's "Queen of the Night" — I've got the stuff that you want/I've got the thing that you need... — would blare.
Early on Saturday, the Hingulas already had judges on notice.
McCroskey's assessment?
"They have their act together," she said. "You can tell they want to be here when they're up there."
Those posted on the show's website will be asked to come back Saturday. Bair said between 200 and 300 people are typically asked to participate in follow-up auditions, often for multiple roles. From there, each show's director will create a cast list, meeting with fellow staff to make sure there is no crossover.
Theatre in the Park's season begins June 10 with "The Sound of Music" (June 10-12, 16-19). "Les Miserables: School Edition" will be June 24-26 and June 30-July 3; "Aida" will be July 8-10 and July 14-17; and "Suessical" will conclude the season July 22-24 and July 28-31.
For Darcie, who after her and her dad's audition, strutted off the stage with panache that delighted Bair, awaiting a callback meant shipping off to Kansas City for another dance competition.
In perhaps an act of self-deprecation, Hingula bemoaned his dancing ability.
"I will teach him," Darcie said. "I have the moves."