Defense sparks St. James past De Soto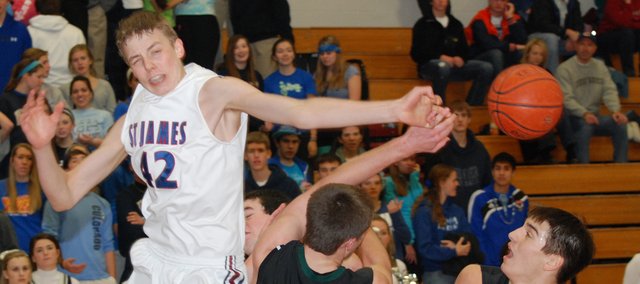 It took St. James Academy nearly three quarters to shake a pesky De Soto boys basketball team Wednesday night at the St. James gym.
Photo Gallery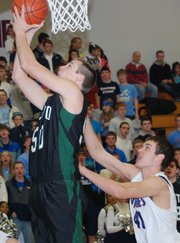 St. James boys 50, De Soto 33
During a decisive 8-minute, 19-second stretch, however, the Thunder seized control and pulled away for a 50-33 victory.
St. James went on a 13-0 run during that span. Meanwhile, the Thunder forced three turnovers and held De Soto to 0-for-7 shooting. The Wildcats also missed five free throws during that period.
Second-year St. James coach Mark Huppe said defense made the difference.
"Our entire staff was really happy with our defense," he said. "I think we concentrated on who we needed to concentrate on, and I thought our help side was a lot better.
"The main thing we talked about at halftime was getting on the boards. I don't know how many offensive rebounds they had in the second half, but it did seem like we did a lot better job of limiting them to one shot."
De Soto was the more physical team during the first half on both ends of the floor. The Wildcats employed a zone defense that gave St. James trouble early, and they effectively double-teamed St. James leading scorer Clint McCullough. Meanwhile, the Wildcats also dominated the glass during the first two quarters and limited St. James to one shot on most possessions while getting numerous second chances of their own.
St. James scored on the first possession of the game when Jonathan Anaekwe drove to the baseline for a reverse layup, but De Soto dominated the next six and a half minutes. The Wildcats went on a 9-0 run during that span. They scored inside with 6-foot-7 forward Aaron Nutterfield muscling his way around under the basket, and they scored from the perimeter with a 3-pointer from Mason Wedel and a 15-footer by Joey Johnson. A Wedel layup after a steal gave De Soto a 9-2 lead with 1:08 left in the first quarter.
Anaekwe buried a 3-pointer from the top of the key with 45 seconds left in the quarter, and that finally settled the Thunder down on offense. Frankie Zitnik's layup with 15 seconds left in the quarter helped St. James pull within 9-7.
"As far as us being ready to play and emotional, we talked about not having had a home game in 34 days and how we just needed to be juiced up for it," Huppe said. "We were about as up as any team I've ever coached, and I don't know if we were too up or couldn't settle down, but we shot the ball a little quick in the first quarter. Not one of those individual shots was a bad shot, but collectively five out of our first seven shots there were probably a little quick."
The Thunder opened the second quarter on a 6-0 run with a layup by Connor McCullough and a layup and put-back by Clint McCullough.
De Soto regrouped quickly, and the teams traded points the rest of the quarter.
St. James led 25-21 at halftime.
The Thunder set their defensive tone for the second half on the opening possession when Clint McCullough drew a charge against Johnson. Still, it took a bit longer to open up a lead on the scoreboard. Nutterfield powered his way to the basket for a lay-in with 4:50 left in the quarter and pulled his team within 27-26. After two straight turnovers, Nutterfield threw down a two-handed jam that kept the Wildcats within 31-28 with 2:57 left in the quarter.
Rather than being a momentum-shifter, however, the dunk was the last noise the De Soto offense made for quite a while.
St. James went on a 13-0 run during the next 8:19. Anaekwe and Connor McCullough sank 3-pointers to spark the run. Five different players scored during that span. A jumper in the lane by River Scott with 3:02 to go in the fourth quarter extended the lead to 44-28.
Wedel's 3-pointer from the top of the key with 2:38 to go finally ended the Wildcats' drought, but it was too little too late.
Wedel led De Soto with 11 points, Nutterfield scored 8 and Kyle McCulloch added 6.
Clint McCullough scored a game-high 14 points for the Thunder, Anaekwe had 13 and Zitnik had 8.
St. James (4-3) next plays Friday against Metro Academy at Mid-America Nazarene University.
More like this story