De Soto's inside game overpowers St. James girls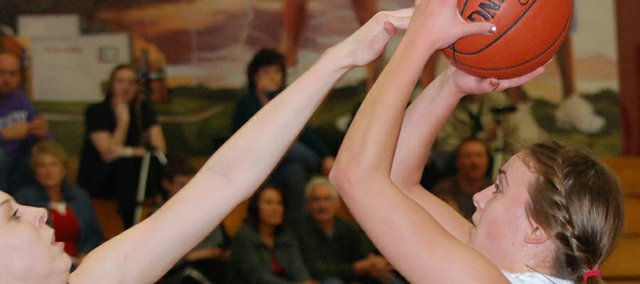 It was a feel-good start to the St. James Academy girls basketball team's showdown with De Soto on Monday when Thunder coach Greg Hohensinner presented his wife, Elaine, with flowers for Valentine's Day prior to the starting lineups being announced.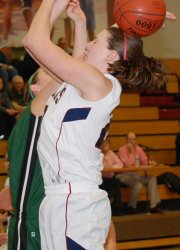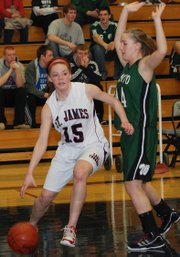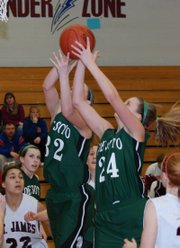 After that, however, the highlights belonged mostly to De Soto as the visiting Wildcats claimed a 44-29 victory.
The trouble for St. James was twofold: It missed too many easy scoring chances from close range and struggled to defend the interior against De Soto's high-low offense.
"That high-low they were going to, it's OK, but how are they getting over the top of us? They're not that much taller than we are," Hohensinner lamented. "But we just weren't doing a very good job to defend that, and on this given night they played better than we did and they truly deserved to win."
St. James played without regular starting forward Bridget Roszel who missed the game with an undisclosed medical condition, and her absence was noticeable.
De Soto did the bulk of it's scoring from close range because St. James did a solid job of containing the perimeter. On three different occasions, Bethany Smith stole the ball near midcourt and took it the other way for layups. In addition, Sheridan Zarda spent most of the game guarding DHS sharp-shooting point guard Shelbi Petty — and Zarda absorbed plenty of elbows to show for her effort.
"Sheridan did a great job on Shelbi, and Bethany did her job," Hohensinner said.
St. James scored the first bucket of the game on a Noelle Dykmann layup off of a drive and dish by Smith, but that was the Thunder's lone lead of the game. De Soto scored the next eight points on three layups and a 10-foot jumper. The Thunder countered with a game-tying 6-0 run as Dykmann scored again off of a feed from Arianna Person, Kristen Lock made a layup off of an inbounds pass assist from Person, and Smith converted on a steal and layup.
Petty closed the quarter with a floater and a 3-pointer in the final seconds and lifted the Wildcats to a 13-9 lead.
St. James trailed by six early in the second quarter, but Zarda sparked a rally when she drove down the lane for a layup. St. James eventually pulled within a point at 19-18 on a pair of Smith free throws. DHS tacked on a final point when Paige Williams sank a free throw, and the Wildcats led 20-18 at halftime.
The Thunder have been a strong third-quarter team this year, and it appeared that would be the case again when Smith knocked down a jumper that tied the game in the opening minute of the second half. The Wildcats unleashed a 15-0 run during the next four and a half minutes, however, and their lead ballooned to 35-20. The surge began with a trey from the top of the key by Petty, and it ended when she turned a turnover into a layup. In between, the Wildcats made five more field goals from within five feet of the rim.
"We didn't answer the bell," Hohensinner said of St. James' flat third quarter. "It went right back to our defense, and we just didn't play very well. It didn't make any difference who I was putting in because they were all doing the same thing.
"Our defense the past two weeks has not been as good as it could have been, and they knew in order for them to win tonight they were going to have to play well defensively. We did some of what I expected us to do, which was stop the penetration, but the interior people just didn't stop the drive."
St. James closed to within 10 during the fourth quarter but never mounted a serious threat to De Soto's lead.
Katie Gorman led the Wildcats with 16 points, Petty scored 12 and Ashley Gorman added 10.
Smith paced St. James with 10 points, Shea Shipman had 5 and Zarda and Dykmann added 4 apiece.
The Thunder (11-6) next play today at Topeka Hayden before closing out the regular seasons with games Tuesday, Feb. 22, against University Academy and Wednesday, Feb. 23, against Harmon.
More like this story