Possible record number of snow days squeezes calendars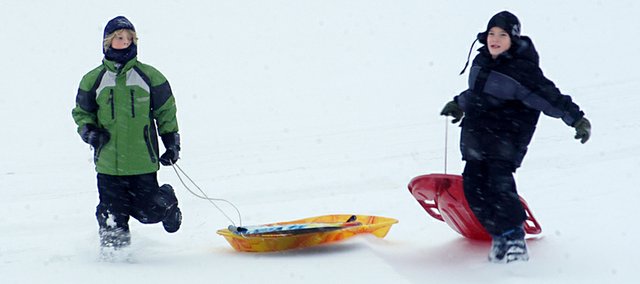 Before this week, Shawnee Mission USD 512 and De Soto USD 232 had used more inclement weather days than they had in at least the past 28 years.
Officials from both districts confirmed the six inclement weather days used before Wednesday was more than at any point since 1983-84 — and that's as far back as the data Shawnee Mission has available. Only three school years saw more than four inclement weather days used: 1992-93, 2000-01 and 2003-04. Before this year, the districts had not used more than four-and-a-half inclement weather days.
Typically both school districts have four such days "built in" the school year. Having exceeded the inclement-weather days built into their 2010-11 calendars, the districts now wait to decide how to make up lost time, citing the possibility of future winter-weather cancellations.
After a winter storm dumped 9 to 12 inches of snow and brought subzero temperatures to the Kansas City metropolitan area last week, Shawnee Mission and De Soto canceled classes for three consecutive days.
Those days, paired with snow days from earlier this winter, are adding up.
Both districts' boards of education adopt school terms of a minimum 1,116 hours. The state allows two days to be used for inclement weather days, and both districts built in two additional dates. De Soto had previously designated April 25 a makeup day in the event of inclement weather. Because it has exceeded its built-in days, it will now have classes that day instead of having no school.
Both districts have issued statements saying they would wait to see what the weather holds in the coming weeks before determining the amount of time needing to be made up and how that time would be scheduled.
They might not have to wait long for more snow. Shawnee experienced wind chills of minus 10 degrees Tuesday with up to two inches of snow possible by Wednesday morning.
As of now, the last days as published on each district's calendar are as follows: May 25 for kindergarten and May 26 for grades 1-11.
More like this story