Early retirements slash county's 'institutional knowledge,' prompt cutbacks to library hours
Library hours changing
New Johnson County Library hours begin Jan. 3.
• All library locations, including the Central Resource Library, will close at 5 p.m. on Wednesdays. (The Shawnee library currently stays open until 9 p.m.)
• The Leawood, Oak Park and Lackman branches will no longer be open on Sundays.
•The Cedar Roe branch will no longer be open on Fridays and will be open only from 10 a.m. to 2 p.m. on Saturdays.
• The De Soto and Spring Hill branches will open at 1 p.m. on Thursdays, rather than at 10 a.m.
More than 170 Johnson County employees retired this month or will in upcoming weeks, including the county's top librarian and more than two dozen other library employees.
With 28 retirees — more than any other department — the Johnson County Library Board voted Wednesday to trim library hours starting Jan. 3, including at the Shawnee branch, community relations manager Marsha Bennett said. Some positions are slated for refilling, but the county's evaluation process won't happen overnight.
"We just don't have enough people to go around," Bennett said, noting that most retirees were service desk employees rather than "behind-the-scenes" staff such as clerks or pages.
Departing employees accepted the first-ever early retirement packages offered by the county, a budget-driven attempt to reduce its workforce to a more sustainable size.
"We have so much institutional knowledge, all at one time, preparing to walk out the door," county manager Hannes Zacharias said in a news release. "There's a lot of hard work ahead, but this is an exciting time filled with both challenges and opportunities."
Of 550 eligible employees countywide, 175 accepted early retirement offers. Many retirements were effective last week, with others effective in January. The Johnson County Board of Commissioners authorized the so-called Voluntary Retirement Incentive Program Oct. 13.
If all 175 positions were left vacant, the county's projected savings would be $8.4 million in 2012 — which is unlikely to happen, Zacharias said. If 67 percent of positions were left unfilled, projected savings would be $5.7 million in 2012.
"Every position, including department heads, will be evaluated to ensure that it is mission critical before considering replacing the employee departing," Zacharias said. "We will continue to address anticipated budget shortfalls by reorganizing, restructuring, and downsizing our organization in the future, while maintaining our core services."
The early retirement incentive is one step the county has taken to reduce its current and future operating costs, without laying off employees. The county wants to ensure ongoing revenue — with no tax increase — will fund operations.
Hiring restrictions have eliminated 335 full-time-equivalent positions through attrition since 2009. The county plans to eliminate 265 more positions by 2014.
Zacharias said existing employees would handle workload "spillover" but that eliminating positions could only continue so long before it erodes the county's ability to provide services.
Change prompted at library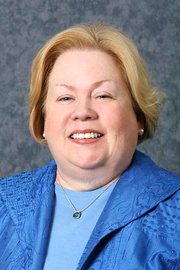 More than half the library's retiring employees are already gone.
Most retirees are librarians and professional staff that can't be "backfilled" from other county departments because of their special skill sets, according to an announcement the library issued last week. The loss represents 647 work hours per week.
At least seven jobs have been prioritized for rehiring, the announcement said, but the board determined it needed to address the immediate shortfall by reducing library hours. Changes vary from branch to branch, but no location will be open past 5 p.m. on Wednesdays anymore.
Shawnee resident and board member Charley Vogt said the decision was emotional.
The Central Resource Library was busy as members met to discuss the matter Dec. 21, Vogt said. Parents and children were doing homework and every computer was full when he left that evening — a Wednesday.
"It's like a personal injury to each one of us because the reason we're here is to allow public access to information no matter how much money you make," Vogt said. "It's very important for us to provide that for all people."
Losing so many valuable employees at once — especially knowing the library's budget will face further reductions in upcoming years — also is sad, Vogt said.
Among retirees is county librarian Donna Lauffer, a 32-year employee of the Johnson County Library.
Lauffer oversaw the construction or expansion of ten library facilities, streamlining of materials handling credited with saving $160,000 annually and implementation of Radio Frequency Identification to improve inventory processes and reduce theft. In 2010, the library was named Federal Depository Library of the Year.
Lauffer's retirement was effective Saturday. Deputy county librarian Tricia Sullentrop is interim county librarian.
More names on the list
Other retiring managers include:
• Deputy county manager Bernice Duletski.
• David Wiebe, 26-year executive director of the Johnson County Mental Health Center. His successor, Maureen Womack, executive director of the Norfolk (Va.) Community Services Board, assumes her duties Jan. 3.
• Cindy Kemper, director of the Johnson County Environmental Department.
• Jack Clegg, director of information technology services.
The Johnson County Sheriff's Office lost nearly 500 years of experience to 22 early retirements, according to an announcement from that office.
Ranked retiring law enforcement officers include Maj. Phillip Livengood, Maj. Lynn Garcia, Capt. Mike Marshall, Lt. Stephen Quigg, Sgt. David Haney and Sgt. David Parker.

"We will miss each and every person who is leaving us after many years of dedicated service," Sheriff Frank Denning said in a prepared statement. "Although we are losing a lot of knowledge and experience, we have been planning for these departures, and I can assure the community that the service they are accustomed to from the Sheriff's Office will continue."
More like this story