USD

 232 to fill seat on Nov. 8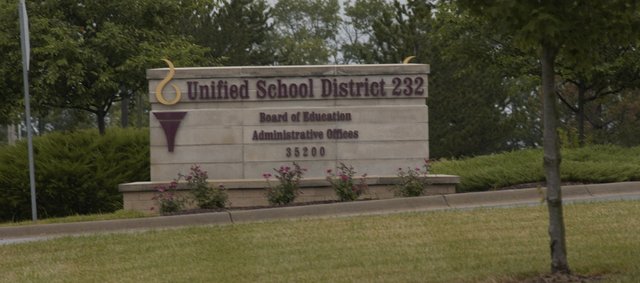 De Soto USD 232 Board of Education members make tough decisions each meeting. On Nov. 8, the six members will add a seventh member to fill the vacant Position 5 seat.
This past week during special meetings, the board heard from each of nine candidates who had applied for the position. Seven candidates interviewed Saturday, while two interviewed Monday. The candidates' names were drawn from a hat to determine interview order.
The board sent written questionnaires to candidates to return at the meetings.
Each candidate was allowed 10 minutes to address four pre-selected board questions:
• How would you address boundary reassessment or construction to solve overcrowding?
• Name the two most immediate challenges you see facing the board.
• Name the two most positive features of the board/district, in your opinion.
• How would you address a potential increase in the mill levy for the district?
Doug Hamilton, an operations director with Quest Diagnostics, said he would use parental involvement, possibly a community task force, when dealing with possible boundary changes or construction of new buildings.
Community consideration seemed to be a theme regarding boundary changes and overcrowding.
Jason Henrich, director of customer care for Kansas City Power & Light, said at times construction may be necessary but isn't always feasible.
"So adjusting boundaries is the only way to solve the problem," he said. "This may cost less monetarily but it has a high emotional cost, so good communication with the community is needed."
David Evans, a superintendent with J.E. Dunn Construction, suggested using population expectancy studies to judge new boundaries and discussed the eventual need for a third high school.
"I wish we could give families lots of time to adjust, like five or six years, but that'll never happen," he said.
Many candidates cited budgetary issues as the most immediate challenges facing the district in the next year.
Mitch Powers, manager of information technology with ATK, said financial constraint, coupled with continuing to provide excellent service to students, was a major issue.
"It has to be a collaborative effort, we have to build engagement to maximize our resources to take care of children," he said.
Ronda Mullen, a self-employed instructional design and training specialist, said budgets and growth created the biggest problem facing the district.
"Sometimes we have to make cuts and that's hard, but we need to keep this district successful. We need to be corporate and be creative with less," she said.
David Ewers, social studies teacher at Olathe Northwest, couldn't name just one positive aspect of the district.
"I agree with the others that our personnel is wonderful," he said. "I also think USD 232's diversity should be celebrated. In this district, patrons can have a rural or suburban (life), they can send their kids to large or small school. We have a lot of choices and added room for growth."
Robert Hingula, an attorney with Polsinelli, Shughart P.C., cited teachers as the most positive part of the district.
"My wife and I changed our daughter from private schools to public school because of the teachers in this district, and it's the best decision we've ever made," he said.
Dick Dearwester, director of biblical counseling at Westside Family Church, said the district should consider four factors when thinking of raising the mill levy: What is perceived as being needed, how much funds are brought in, what new businesses are coming into the area and the overall state of the economy.
Jon Taulbee, regional sales manager for Nuance Communications, said being in touch with the current economic state would be key to consideration of raising the mill levy.
"We need to decide what it is that we really need," he said. "Does it come at the expense of academic experience?"
Board vice president Tammy Thomas asked candidates what they thought was the most difficult decision the board faced in the coming year or years.
Dearwester said the most difficult decision would be choosing the person to fill Position 5.
"You're here because you were elected," he said. "The important decision could well be this seventh person."
Hamilton said choosing to uphold the mission of USD 232 "to be an example to the community is the most important decision this board makes."
Mullen said the most important decision was how to maintain the high level of excellence the district is known for.
The board hopes to appoint the new member at its regularly scheduled Nov. 8 meeting. The chosen applicant will sit on the board for the first time at the Dec. 13 meeting.
Board president Tim Blankenship said the overall process had gone well.
"We were definitely all surprised and pleased by how many applicants we've had," he said. "I've heard comments from a few board members on how difficult the decision will be."
The open seat is in board District 5, which is in the city of Shawnee east of Kansas Highway 7, north of Johnson Drive with a section south of Johnson Drive to Clear Creek Parkway, between Monticello Road and Woodland Drive.
The Position 5 seat will be added to the general election ballot on April 5, when voters will decide who will complete the unexpired term ending June 30, 2013.
More like this story