National group honors health teacher's efforts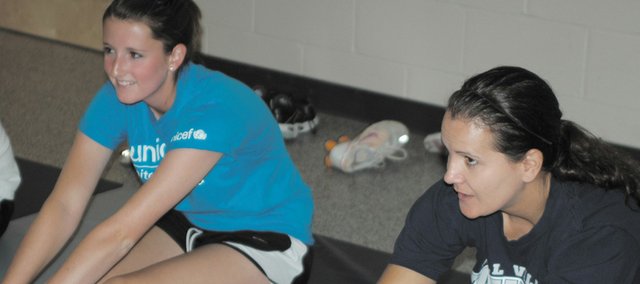 Teaching healthy lifestyle skills to her students has been a priority for Amy McClure, and one that seems to be working quite well.
The Mill Valley High School health and physical education teacher was recognized this month as the 2010 Health Educator of the Year by the American School Health Association.
"I was very excited and kind of shocked, too," McClure said of learning of her recognition.
McClure has taught at Mill Valley for eight years. She has certifications in both physical education and health education for K-12, as well as certification to teach general science at the middle school level. Her 13 years of teaching experience include work in middle school, high school and post-secondary levels.
McClure first found out she was nominated for the recognition in early spring.
Kansas State Department of Education consultant Darrel Lang, whom McClure met through workshops and conferences, nominated her. Joe Novak, her principal at the time, wrote a letter of support.
In mid-August, McClure received a letter from the American School Health Association announcing she had been chosen for the national award.
McClure was nominated in part for her efforts to advance healthy values to teachers and students.
"I've always been active in living a healthy lifestyle, so teaching that has always been a goal for me," she said.
When McClure isn't talking to high school students about healthy choices, she's helping change the way districts look at wellness.
"It's a district-wide initiative," she said. "I'm a member of that team, and we try to initiate a lot of the state's coordinated school health policies a little at a time. So far, we've had good results. One of our recommendations was for vending machines. This July 1, sugar sodas were banned from all schools. Two years ago we went from regular soda to diet soda in our machines, so that this year we knew there wouldn't be any options, so it wasn't so harsh on the kids."
The next objective on her agenda is taking on the school lunch program.
"I'd love to tackle the federal school lunch program. I would definitely join forces with anyone that wants to get the changes made," McClure said. "We'll bring in more fresh food and less processed. There's a big loophole with a la carte options. I know it pays the bills, but it's not a good choice for the kids."
And ultimately that's what it's about for McClure — the kids.
"I hope that students see they can live a healthy lifestyle. They can make informed decisions to be healthy and productive," she said.
She said it was an honor to know others in her profession recognized her efforts.
More like this story