Citation, guilty plea at issue in campaign
3rd Congressional District
Republican 3rd Congressional District candidate Kevin Yoder pleaded guilty to refusing to take a preliminary breath test in connection with a 2009 incident, Douglas County District Attorney Charles Branson said.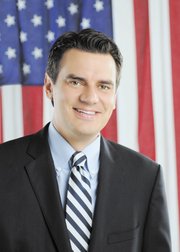 "If someone is going to obstruct a DUI investigation, we are going to require that they plead to refusal of a PBT," Branson said Monday.
Yoder's campaign said he was not driving under the influence.
"Kevin was pulled over for speeding," said Alissa McCurley, a spokeswoman for Yoder. "He was asked to take a field sobriety test, which he passed."
Some questions have arisen about whether refusal to take a preliminary breath triggers suspension of a driver's license by the state.
James Keller, deputy general counsel for the Kansas Department of Revenue, said that isn't the case.
"We don't suspend for a person refusing to take a preliminary breath test," Keller said.
Yoder, an Overland Park Republican and current state House member, faces Democrat Stephene Moore and Libertarian Jasmin Talbert in the Nov. 2 election.
Yoder, driving a 2002 Lexus, was pulled over on Kansas Highway 10 east of Lawrence by a Highway Patrol trooper at 2:31 a.m. Feb. 8, 2009, Branson said.
Yoder was given a ticket for going 80 mph in a 70 mph zone and for refusing to submit to the preliminary breath test.
On March 25, Yoder's attorney Scott Gyllenborg filed a motion for a continuance because of a court conflict, and the matter was rescheduled for April 3, according to the Douglas County District Attorney's Office.
On April 3, Gyllenborg appeared and requested a continuance to apply for a diversion for Yoder. But the District Attorney's Office said in a statement: "Mr. Yoder ultimately did not apply for diversion but entered into a plea agreement with the district attorney's office."
On June 4, Gyllenborg on Yoder's behalf entered a plea of guilty to refusal to a preliminary breath test. The court ordered a $90 fine plus court costs.
"We view the refusal of a preliminary breath test as an obstruction of a driving under the influence investigation and therefore we require a plea to that charge," said Chief Assistant District Attorney Amy McGowan. "The speeding infraction was dismissed as part of the plea agreement."
Moore's campaign manager Matt Sinovic criticized Yoder's actions.
"Kevin Yoder's irresponsible actions … are inexcusable. His lies in attempt to cover up these facts are an insult to the voters of the 3rd District," Sinovic said.
McCurley defended Yoder.
"He was issued a speeding ticket and then asked to take a preliminary Breathalyzer test. He declined because he had passed the sobriety test. Kevin was not driving under the influence. He paid the fine for one citation, the other was dismissed," she said.
More like this story