Library can now cap checkouts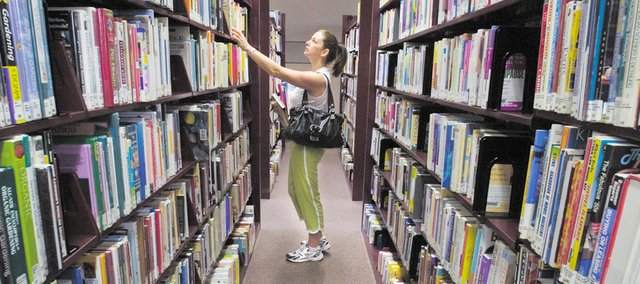 Johnson County Library staff will soon have the power to limit the number of items patrons can have checked out at once.
Not only did the library board approve a staff recommendation on the issue Wednesday, it went one step further by suggesting checkouts be limited to 100 instead of 200, the number initially suggested.
The board also approved capping DVD checkouts at 30 per person and video game checkouts to 10 per person, community relations manager Marsha Bennett said.
Such limits would, in fact, affect a number of patrons.
Recent counts revealed:
• 25 patrons with more than 200 items apiece checked out
• 61 patrons with more than 100 items
• 57 patrons with more than 30 DVDs
• 11 patrons with more than 10 video games
A theft operation discovered earlier this year prompted librarians to consider better controlling their inventory. For months, individuals had allegedly worked together to check out hundreds of items, mostly video games, and resell them.
The checkout limits are hoped to help prevent theft and enable staff to better manage the library's collection.
The board on Wednesday also approved reining in the Interlibrary Loan program.
Johnson County residents will be limited to having five active requests at a time, and noncounty residents will no longer be allowed to use the program at all.
Currently, 17 percent of the library's borrowing traffic comes from out-of-county residents, and the vast majority of them live in areas with local libraries that offer loan services, according to a library staff report.
Johnson County Library has struggled to keep up with increasing loan demands with a decreasing number of employees to handle them. Staff estimated the approved cuts could save the library $50,000, plus an additional $28,000 in reduced mailing and courier costs.
Both changes will become effective Jan. 3.
More like this story