Phillip Hamilton's graduation speech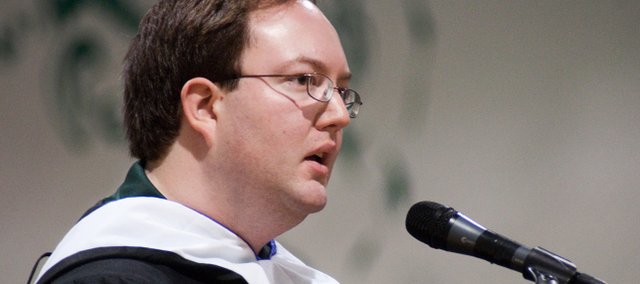 Good Morning. My name is Phillip Hamilton, and I am the 12th Grade English teacher at De Soto, which means that I've worked with every student graduating this year. I've learned two things. The worst thing about teaching seniors is that you only know most of them for one year. The best thing about teaching seniors is that you only know most of them for one year. Teaching seniors is tough. It's hazardous to one's health. It comes with a disease, senioritis, which, like the flu, comes in a slightly different strain every year and never seems to go away. Instructing seniors also leads to teacher-pattern baldness.
The greatest challenge to one's health, however, is stress, but I don't mean stress for myself only. The seniors felt it too. I set them many daunting tasks. For some of you, vocabulary was a challenge. When I asked you to write an essay for Macbeth defining the difference between greed and ambition, I assumed you knew what "ambition" is. That was unfair. Some of you hadn't encountered that word yet. Some of you knew the words, but had trouble spelling them. It is tough when you "defiantly" know many things but "definitely" know very few. The stress was even greater when you wrote essays that asked the audience to "bare" with you, and I had to remind you what is and isn't appropriate for school. Even if you got the words right, sometimes punctuation got in your way. It must have been stressful for your family, too, when you forgot to put the comma in the sentence, "Let's eat, Grandma." And finally, if you struggled with everything in a paper, it must have been stressful to be reminded of how simple English use to be, because your papers, much like my favorite Sesame Street episode, were sometimes brought to us by the letter "F" and the number "0." I hope I made you feel better by reminding you that failure can be a wonderful learning opportunity.
As we improved on those errors, I hope you learned that it is the little things in writing that make the biggest differences. When considering one's future, it's the little things that make you who you are. Today is your graduation, the day that we hear a number of speeches that reflect on your journey towards this very day. Reflection, much like writing, typically focuses on the bigger things. But reflection must also acknowledge the little moments.
It may seem counterintuitive, but reflection is the most forward-thinking activity one can engage in. Reflection helps us understand how to change our behaviors so that we can grow into someone greater. Reflecting on little moments during big moments like today helps us make our memories useful tools to inform our future decisions. Instead of reflecting on the state tournament appearance your team made, consider the first day you decided to wake up early to lift extra weights. Instead of feeling a sense of achievement over the scholarship you won, reflect on what you learned from those painstaking extra revisions you made to your application essay. And instead of wondering why you got a "D" in English, recall the moment you suggested use of sunscreen on your teacher's forehead right before he graded your essay. Small moments like those make you into a young person who is ready to enter the world, and I challenge you to make time today to reflect on those little moments. That reflection will help guide you as you navigate the challenges of adulthood.

Before closing, I'd like to get back to the first thing I learned at the beginning of my speech. The worst thing about getting to teach you so late in your high school careers is that I only knew most of you for one year. But you are the first class that I've gotten to see grow up a little, from that junior year when we all were finding our way, to this year, when I've seen you turn into the adults we see today. When I reflect on my school year with the class of 2010, your humility and kindness stand out to me. Your final project in English class was a series of thank you letters to faculty, family, and friends. The way you embraced that project reminded me of what I've known all along: you're gracious. You're caring. You're filled with love. You understand and respect the people who helped you along the way, and you are fully prepared to be a part of that community and become the guiding hands yourselves.
So this is it. The last lesson I'll ever give you, and none of you brought pen and paper. Typical. Next year you'll face challenges that you don't even know exist. As much as we've tried to teach you, there are things you must still learn. They will be tough. You will be asked to stand on your own. But I want you to remember three things. First, we believe in you. We believe in your potential, and we believe that you will be successful. Secondly, rely on the lessons you've learned in these 18 years from the people who are in this room today. A few of them know a couple of things. Finally, remember that we will always care about you, and we understand that the challenges ahead are great. You will always have people, including me, who will continue to support you as fellow adults.

Thank you for letting me teach you, and thank you for letting me know you. Congratulations.