Principal's days at Mill Valley to end soon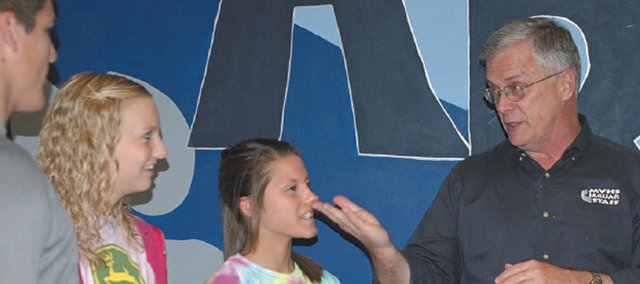 With the end of the school year quickly approaching, packed boxes are piling up in the corner of Joe Novak's office in Mill Valley High School.
Novak came to De Soto's USD 232 in 1989 as an assistant principal at De Soto High School. Twenty years later, he's retiring as principal at Mill Valley High School.
"The original plan was to retire when my youngest daughter graduated; that was last spring," Novak said. "With all the district changes, the Board (of Education) asked me to stay one more year, work with the new superintendent and see through the construction at the high school."
While Novak's plans for life after retirement aren't solidified, he's unlikely to sit idle.
He'll spend another summer teaching a course in resource management and education finance at Kansas University.
"If I could wish for another job, it would be to teach young educators and serve as a mentor," he said. "I was always told 'do what you love, love what you do.'"
Novak said he would miss his MVHS family come next fall, but he'll look back with fond memories.
Working with the ACCESS and Bridges programs stands out for Novak.
"When you go down to the class and watch them progress and how happy they are and how they love unconditionally, you realize how blessed you are," he said.
Interacting with his students was always a highlight for Novak. For example, the drama department regularly invited Novak to participate in shows.
"I was able to get to know students that I might not necessarily see all the time," he said.
"These are all my kids, maybe not biologically but they are my kids."
That won't be evidenced more than on Saturday, May 22, at graduation where Novak has been asked to speak by members of the senior class.
"It will be very emotional," he said. "I'll take a deep breath and get through, but it will be difficult."
Seniors Allison Rollig, Alaina Fairbanks and Kyndra Zeigler said they'd remember Novak when they look back on high school.
"He has a smile on his face every morning when he's greeting students," Kyndra said. "He really built Mill Valley."
Alaina will remember Novak's drive to be with students.
"He always participated in school events," she said. "Whether he was at soccer games, football games, plays or knowledge bowl, he always wanted to be there."
Allison said Novak's example would stay with her.
"He always says 'hi' in the halls," she said. "He's really shown us how to be leaders."
Although they know it's selfish, the girls are happy Novak will be leaving with them.
"He makes MVHS feel like home," Kyndra said. "We love him."
Never one to shy away from sayings, Novak thinks of one in particular when his departure is mentioned.
"Live, love, learn and leave a legacy," he said. "I think my greatest legacy will be to know I helped others learn to love people. People learn from and emulate the things you find important. If we can mentor young people in the ways that are right and they do those things, you've left a legacy."
Novak's life lessons aren't all he's leaving behind at Mill Valley. He's built a solid staff, and test scores have improved over the years.
"The curriculum and classes are more wide-ranging than when the school opened in 2000," he said. "We have more kids involved in school, we've got more hooked academically."
Novak's bond with staff goes beyond the classroom. He's hired and watched young teachers grow into their own.
"It's been great watching individuals reach their greatest potential," he said.
So in July, Novak will hand over the school's reins to Tobie Waldeck, the school's new principal.
"I've had the good fortune of being blessed finding a rewarding and meaningful job," Novak said. "I've worked with a supportive community, a supportive group of young people and a respectful staff."