Staggering defeat
Wildcats lose first game to Stags 7-0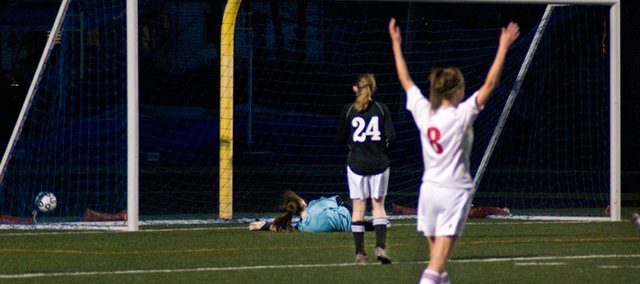 De Soto soccer coach Darren Erpelding wants to use last night's loss to Bishop Miege as a learning tool for the future.
"I'm not happy with the outcome but it's something I think we can get better at," Erpelding said about the 7-0 loss. "I thought we did alright. It's a game that we can build on. I saw a lot of things that they exposed on us."
Carly Stanley agreed with her coach.
She said the team did well for their first game, especially after their opponent had already played four games.
"There is a lot to work on," Stanley said. "It's a tough team to start off on and our score doesn't reflect how we played."
Jamie Zvirgzdins, the team's keeper, is still out with a knee injury. Last night Megan Robinson stepped in as the team's goalie. While the Stags managed to get seven goals on her, Robinson saved nine.
During the game Stanley and Sarah Bell each attempted a shot on goal.
Tonight the Wildcats are still taking the show on the road.
The Wildcats will kick off at 6 p.m. Tuesday at Gardner High School.