Recession shapes State of the County speech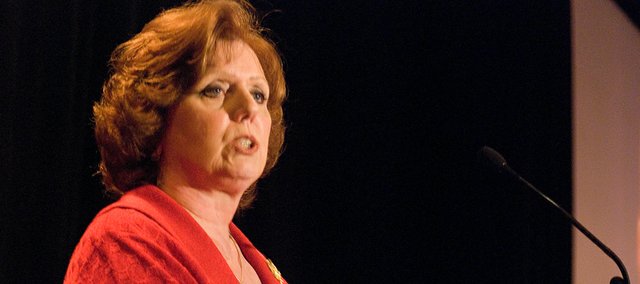 Despite a struggling national economy, Johnson County Commission's chairman says the county is doing well and continues to excel in several areas.

"Today, I make my sixth report on the state of our county," Annabeth Surbaugh said in a speech Tuesday to area business and civic leaders. "I do so under some of the most difficult economic conditions our nation has experienced in more than 70 years. The national recession, increasing inflation rates, escalating unemployment, and unprecedented home foreclosures have combined as the perfect storm of financial conditions."
Despite the national recession, Surbaugh said the county can boast about having the lowest mill levies in Kansas, the most residents in any county in the state and a AAA bond rating for the third year in a row.
She claimed it was the county's conservative financial policies that strengthened its reserves to 35 percent of the county's general fund and its planning efforts that led to getting the good rating.
Surbaugh said the reserves were a "critical component of our projected five-year financial plan to address the impact of the current recession as well as a federal and state revenue reductions."
She said she had taken some criticism about the large amount of reserves, but said it was important to the county, especially in the current financial conditions.
"You might call it a rainy day fund," Surbaugh said. "And given the state of our national economy, I'd say that our reserves are just the umbrella we need to help make it through the storm."
The county's reserves could keep taxes stable and help the county keep its AAA rating, she said, but they cannot not be sustained for a long period of time.
"If our economy and property valuations do not improve in the near future, we cannot balance our budget in 2012 and beyond only by using reserves," she said. "That would be unrealistic and unachievable. The balancing act will require additional, perhaps even significant, reductions in public services and cuts in our work force."
She said the county would try to remain as a safety net for those in the community that are struggling in these difficult financial times. She wants local government, those closest to the community, to continue to meet the needs of its residents.
"People need our service and support now more than ever," she said "But the lethal combination of unfunded mandates and budgetary cuts hinders our ability to serve our most vulnerable and at-risk populations. The message from local governments to state and federal lawmakers is: Please, please don't make your shift our shaft."
Greener thinking
During the address, Surbaugh also touted the county's move to be greener by building more Leadership in Energy and Environmental Design (LEED) gold-certified buildings and using alternative energy sources.
She said the Sunset Drive Building has trimmed energy costs by 45 percent or $378,000.
Surbaugh mentioned more LEED Gold certified facilities are on the way including a new crime lab, juvenile justice and family services facility, and public works building.
The Middle Basin Treatment Plant received $15 million in federal stimulus funds to allow it to use waste oil from restaurants to generate electricity.
"These new facilities represent a fundamental change in the way county government approaches construction," she said. "Green construction is only part of our vision. We are creating a green legacy for present and future generations."
She laid out a goal for the county government to achieve zero waste and reduce greenhouse gases by a third by 2020. Another goal is to reduce greenhouse gas emissions by 80 percent by the year 2050.
Future of government
In the next few weeks, county commissioners will be establishing a charter commission to "look ahead at what the role of government is going to play in the future," Surbaugh said.
She said under a provision of the home-rule charter, the county must convene a new charter commission every 10 years to study and make recommendations about the structure and operation of county government. Those recommendations could then be submitted to a public vote
The charter commission is expected to convene in early 2011.
Transportation
Soon, the board will also be establishing a strategic transportation action recommendation task force.
"The task force will study our strategic plans for the future of transit programs and make recommendations with respect to funding options for a countywide transit system," Surbaugh said.
She told the group about the $10 million in federal TIGER grants that secured the development of a bus rapid-transit corridor on Metcalf Avenue and Shawnee Mission Parkway.
Surbaugh concluded her address by saying that the county would continue to face challenges but the government would work as hard and dream as big as its residents.
"We will not be run over by the challenges of a recession, we will not fail to plan for the future knowing that we must be ready for success when it comes knocking," she said. "We will continue to act with certainty and be ready to adapt. We will be accountable for our actions. We will engage our citizens so that we remain a community of choice."