De Soto's new Journo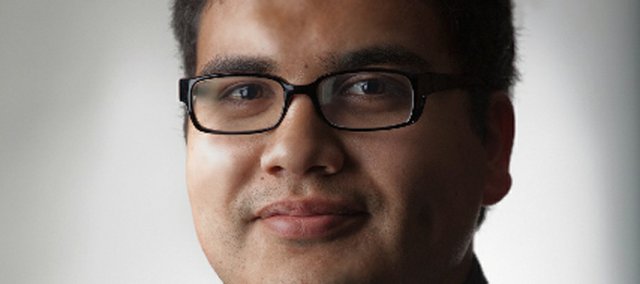 Contact me by calling (913) 585-1616 or e-mailing at journo@desotoexplorer.com
My name is Estuardo Garcia and I will be the new community journalist for www.desotoexplorer.com.
Before coming to De Soto, I was the city and county government reporter for The Mirror newspaper in Tonganoxie.
Although I was born in Guatemala City, Guatemala, I have been a Kansan for more than 23 years. I graduated from Shawnee Mission South High School and the University of Kansas. I've had adventures in Kansas including climbing to the bottom of the Big Well in Greensburg; trekking to the peak of Mt. Sunflower in Wallace County; viewing the world's largest prairie dog in Oakley; and visiting the infamous Clutter home in Holcomb.
In 1986, my parents, Hector and Olga Garcia, moved my two sisters and me to the United States from Guatemala to escape that country's civil war.
In September 2007, my family completed the long and difficult journey to become citizens of the United States of America. My father, my sister Aida and I are all KU graduates. We were privileged to pledge our oaths of allegiance at the university's Robert J. Dole Institute of Politics. My mother and sister Gaby took their oaths a few days earlier in Kansas City.
I began my career in journalism at KU as a writer for the University Daily Kansan. I eventually moved my way up to correspondents editor and special sections editor. During my time at KU, I held internships at the Leavenworth Times and the Lawrence Journal-World. I am not the only member of my family to pursue a career as a journalist. My grandfather was a journalist in Guatemala for many years and his brother, my great uncle, was a photojournalist.