Bingo Bash a smash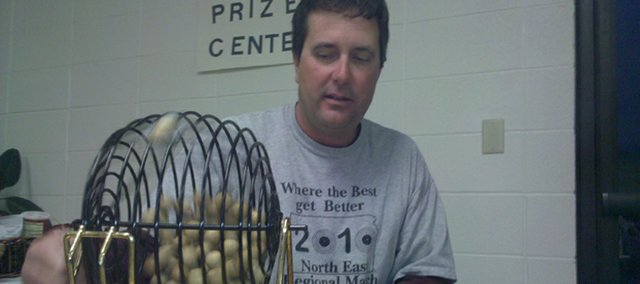 The De Soto United Methodist Church's youth group had a fundraiser Saturday night and Bingo Bash was its name-o.
About 90 people attended Saturday's bingo fundraiser at the church.
"I thought the rain and the cold weather might have kept some people away, but the tables are packed," Brenda Crisco, the youth group's advisor said.
The money raised during the event went to help fund the youth group's July 20 mission tirp to the United Methodist Boys Rang in Gore, Okla.
Crisco said she wasn't sure what the group was going to be doing at the ranch, but that the 11 kids would have a good time doing it.
And the kids agree.
Brandy Heater, Rhiannon Caldwell and Heather Willhite have attended several of the past missions trips since the church started them in 2005.
They said they liked going on the trips because they get to help people.
"There is a sense of accomplishing something," Caldwell said.
"And it's easier to do it when we are with friends," Willhite added.
The girls recalled a time they built a deck for a woman that had muscular dystrophy during one of their trips.
"It was so rewarding just to see her reaction," Heater said.

The group only has about $1,000 left out of the $4,000 total.
Another fundraiser is in the works to help the group raise the rest of the funds.
Crisco wanted to thank the community for coming to support the youth group and especially wanted to thank the sponsors for their generous donations.
More like this story