STUCO

preps for April blood drive at

DHS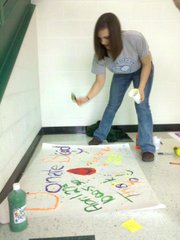 Once again, it's time to roll up your sleeve because the annual blood drive sponsored by the De Soto High School student council is back.
From 10 a.m. to 5:30 p.m. April 27, the Community Blood Center will be saving lives at the high school one pint at a time. Donations will be taken at the school's little gym.
Nancy Perry, STUCO advisor, wants to do just as well if not better than last year's drive.
"Last year we had a goal of 50 pints," Perry said. "We exceeded that and ended up with 60 pints."
This afternoon, the STUCO members painted signs that will be hung up around the school reminding and encouraging students to donate at the blood drive.
"It should be a great success," Joe O'Niell, DHS senior, said. "We do better every year."
This blood drive will be bitter sweet for the STUCO seniors like Tami Crow, senior class president.
The spring drive is the last big event put together by the senior school leaders. Their big fall event was homecoming.
But despite any sad feelings the seniors may have about their last event, they will be there at the little gym making sure every donor is well taken care of.