DHS

students take tour of Chinese classrooms over the Web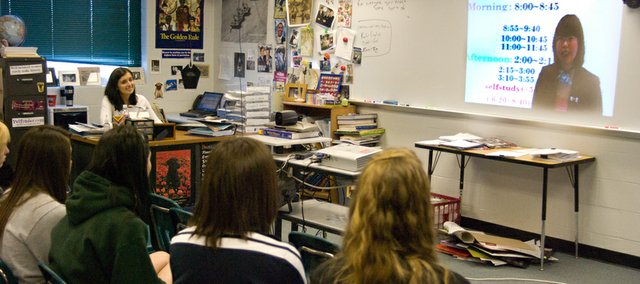 While school funding has made it difficult for some schools to take their kids on short field trips to local museums, some students at De Soto High School got to go to China… sort of.
On Tuesday, Adrianne Lehrman current social issues class made the trip to China virtually by talking to a Chinese instructor LingLing Xiein in Clearwater over the Internet with video conferencing equipment.
"It made me pay more attention to it because it's something different and new," Bailey Peak, DHS junior, said.
From their classroom, the juniors and sophomores sat in front of a video camera that sent their images and audio to Xiein. On the other side, Xiein, stood in front of another Web camera with a green screen behind her to allow her to project photos and videos related to the tour.
The set up allowed both the students and Xiein to interact with one another in realtime.
On the tour, the students learned a lot of things about the life of an average Chinese student in Wuhan China, Xiein's home town. More specifically, how different their school life was.
For example, instead of a typical five to six hour day in four or five different classes, Chinese students could spend around 12 hours in seven subjects six days a week.
This came as a shock to Lehrman's class.
"I think American students area really focused on extra curricular activities and only having a certain amount of time to practice won't work out," Sam Salvini, DHS junior said.
The students were disappointed to find out that they weren't talking to someone who was actually in China, but Lehrman said that was one of the school's goals in the future.
"I do want to have an international conference, but it's just harder to plan with the time change," Lehrman said.
Perhaps the next time the DHS students could stay to school until nearly 9 p.m. like their Chinese counterparts to have a virtual chat across the sea.
More like this story