De Soto City Council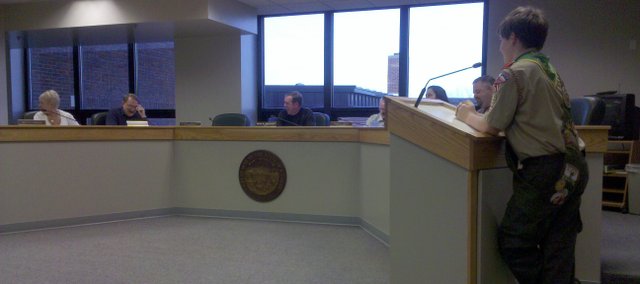 With Gardner City Hall still reeling from a recent recall election, the De Soto City Council members have decided to keep moving on a plan for a new wholesale water district, but will leave the door open for Gardner or any other entity to join in.
At Thursday's regular city council meeting the council decided to move forward with trying to market the project with our without solid support from Gardner.
Mike Brungardt, city engineer, said De Soto was in a good position because it has the luxury of not having any contract deadlines looming in the fall.
"It's work letting them sort it out," Brungardt said. "Gardner is the one piece in the puzzle that makes a significant difference in what we pay for water."
Although he added it would be optimistic to expect Gardner to make a decision sometime this year.
Councilmembers Ron McDaniel and Mike Drennon don't want to wait around for Gardner if there are other things the city could be doing to precede with the upgrades needed to the water plant and with the water district.
"I just don't want to wait a year when we could have been doing this and having it all in place," Drennon said about the district feasibility study. "I'm not saying we have to do it tomorrow or two or three weeks. I just don't want to sit back and wait and waste a year."
Councilmember Mitra Templin and Mayor David Anderson wanted to move forward with marketing the water plan.
"I think it's a marketing thing," Anderson said. "I think we need to define who we are, figure out what we need to do and go market it."
Templin echoed the mayor's remarks.
"I think there are discussion that need to happen with the rural districts," Templin said. "I don't want it to be August and all of a sudden (the other parties in the study) say, 'hey we've been dealing with this for long enough and we've got contracts due.' I don't want to miss an opportunity here. Maybe we can put some pressure on their governments by generating some publicity."
Brungardt said that the current version of the report is not the very final version of the report and he hopes that will be completed by next month.

In business Thursday, the De Soto City Council
• Unanimously voted to authorize the Mayor David Anderson to enter into a lease agreement with the De Soto Cemetery Association.
• Unanimously voted to table a resolution authorizing certain main trafficway improvements in the city until the April 1 meeting.
• Listened to a request from Casey Jones, a local youth who is looking for financial contributions form the city for an Eagle Scout project. The project would install a bell in front of the memorial at the VFW. Jones had not previously filled out a request for city funds. The mayor and the council needed the form filled out before appropriating any funds and they thought it would be a good for Jones to see how local government works. Once the form is filled out, the request will be brought to the council in a later meeting to be voted on.
• Listened to a report from Kayla Glass and Lori Murdock who were representing the American Cancer Society Relay for Life. The two women were requesting a $1,000 donation from the city for the De Soto relay. The women had filled out a funding request form and it was unanimously approved.
• Voted 4-0 to approve the rezoning of a tract located half a mile north and a quarter mile west of 79th Street and Gardner Road. The tract was changed from county rural zoning district to rural agriculture district. Council president Mitra Templin recused herself from the discussion. Anderson voted in favor of the rezoning.
• Unanimously accepted the change to ordinance 2251, which authorized certain streets and roads as main trafficways and main trafficway connectors. The new change included a section of Wyandotte Street from the bridge at the Kansas River to 84th Street. The following is a list of the authorized main trafficways and main trafficway connectors: 85th Terrace, from Penner to 85th Street; 85th Street, from 85th Terrace to Ottawa Street; 84th Street, within the city limits; Kansas Highway 10 within the city limits; Ottawa Street within the city limits; 79th Street from Ottawa Street to the western city limits; High Street, from Penner to W. 85th Terrace; west 85th Terrace, from Penner to High Street; Primrose, from 82nd Street to 87th Street; 95th Street within the city limits; 87th Street from Penner Avenue to Sunflower Road; Cedar Creek Road from 83rd Street to the city limits; 83rd Street, from Penner Avenue to Peoria Street; Penner Avenue, from 83rd Street to Lexington Avenue; Lexington Avenue within the city limits; Kill Creek Road from 83rd Street to the city limits; Corliss Road from 83rd Street to the City limits; 91st Street from Lexington Avenue to its western terminus; 98th Street from Waverly to Post Oak Drive.
• Unanimously approved a temporary use permit for the Country on the Kaw music concert and also the waiving of the $50 application fee and damage deposit; unanimously approved the cereal malt beverage permit for the concert; unanimously approved a noise permit effective from 5 p.m. to 11 p.m. Sara Ritter, executive director of the De Soto Chamber of Commerce said this year's headliner will be Tracy Lawrence.
More like this story