Out like a lion
Weekend snow storm dumps inches of snow in De Soto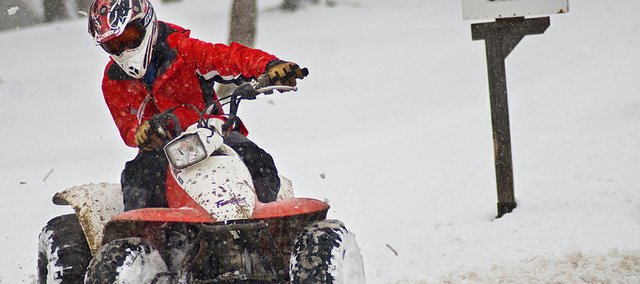 Photo Gallery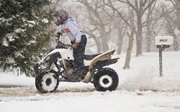 Snow storm
A late March snow storm hits the area.
Today was a good day to stay in and watch some college basketball – unless you are a Kansas fan.
A late March storm in the area dropped at least four inches of snow in De Soto. The cold air and the blowing snow made travel difficult.
Those who ventured out had to first shovel themselves out of their driveways.
Pat McCoy spent his afternoon clearing out his sidewalk and driveway.
"It's just one of those things you have to do," McCoy said about shoveling the snow. "It makes you wonder about global warming," he joked.
McCoy's son, Matt, and a friend, Conner Schimke, spent the afternoon skidding around in ATVs.
"It beats sledding," Schimke said.
I don't know how long this snow will stick, but the National Weather Service reports it will be nearly 50 degrees on Monday and in the 60s by Tuesday. Finally, spring might be here to stay... maybe.
If you you do feel like venturing out, and you are a fan of coincidences, the Kansas City Repertory Theatre is putting on the show "Bus Stop" by William Inge. The play revolves around eight characters trapped in a small bus stop 30 miles west of Kansas City by a March blizzard.
More like this story