Senior group hits bumpy road with transportation funding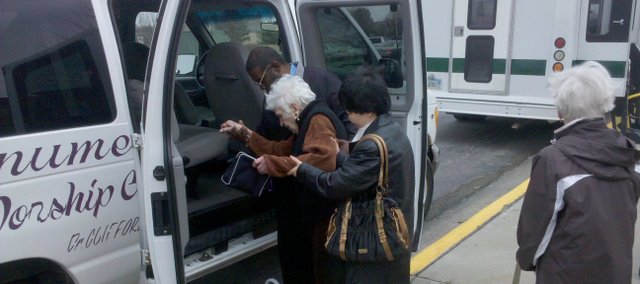 Inside a meeting room in the massive United Methodist Church of the Resurrection in Leawood, a group of senior citizens sit down and listen to a speech from Joe Bisogno, founder and CEO of Mr. Goodcents Subs and Pasta.
The group members sit back and just listen to the restaurant magnate as he talks about his life because most of the members of the Johnson County Sight Impaired Fellowship can't see.
In fact, most of the members don't really know what each other look like, but know each other only by the sound of their voice.
"These meetings are an answer to a prayer," Hilda Jones, a fellowship member and sight impaired person said. "I don't know what I'd do without them."
For years the group has met to discuss issues important to people with visual disabilities, technologies available to help them and, more importantly, to socialize with other seniors. But recently, the group had run into some financial troubles.
Bill Prather, founder of the fellowship, said it takes thousands of dollars each year to bus the members, who live throughout the county, to the church for the twice a month meetings.
"About half the people in our group depend on that bus," Prather said. "They don't have any other sighted person that can easily help them."
Earlier this year the group was short $7,500 for 2010 transportation funding and $10,000 for 2011.
That's when the fellowship members and Jim Courtney, executive director of the Mr. Goodcents Foundation, which was established by Bisogno to give seniors greater independence, started looking around for funding.
For eight years the foundation has worked with the county to help fund some of its programs for seniors. The foundation has been helping to fund the fellowship for the last four.
Courtney and Deborah Collins, director of the county's human services, got together to find the funding for this year.
Through some private donations and a big donation from Swiss Re, the group has enough funding for 2010 and already has cut $1,000 from the amount needed from 2011.
Although the rest of the meetings for this year are taken care of, Prather wants the group to find regular funding so it won't have these problems come up in the future.
"We would gladly let the Mr. Goodcents Foundation take care of it all, but we know that's unfair," Prather said. "This group needs to be self-sustaining to some degree."
Courtney and Bisogno are confident that they can pull together the right people to fund this program, which they feel is important to the well-being of seniors.
"Being sight impaired is not the problem," Courtney said. "These programs are designed to connect seniors with other seniors that share those common difficulties. They end up bonding together and now they call each other and can't wait to get on the bus to talk with each other."
Donations to the foundation can be made through their Web site at www.mrgoodcentsfoundation.org.
More like this story