Ready to strike
DHS

senior pitcher Williams looks to lead Wildcats again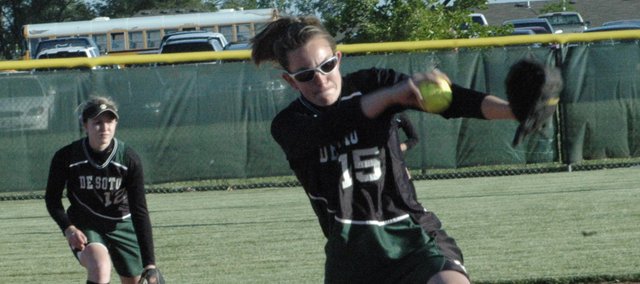 Excitement levels are high for the De Soto softball team that returns several starters from last year. The Wildcats are preparing for the season opener March 30 against St. James.
Coach Melissa Wible's key returner is pitcher Katie Williams. Williams signed with Johnson County Community College last week to throw for the Cavaliers.
"We're so glad to have her back," Wible said. "She is going to be such a key player. She was second team All-League last year, and I think she may be the best pitcher in the conference this year."
Williams should be able to pitch both games of doubleheaders, Wible said, but should she not, the coaches are expecting two freshmen pitchers to emerge as solid contributors.
"Sophia Templin and Allie Flinn are pretty talented young pitchers," she said. "We'll see how far Katie makes it in the games. So far she looks good in practice, but we'll always need backups."
Jordin Burford will return as the squad's shortstop and Hannah Jokisch is coming back for another year in center field.
"Those two will play key roles for us," Wible said. "Both are good defensively and are excellent communicators."
The Frontier League is as strong as ever with Ottawa and Paola as the frontrunners. For the non-conference games the Wildcats are eager to get another crack at Holton, a team De Soto lost to in 2009.
"We played Holton at the beginning of the season last year. It was a really good game even though we lost," Wible said. "They're a very good team, so we're ready to play them again."
The only disconcerting notion for the Wildcats is the inclement weather the girls have been battling. With rain and cold temperatures, the Cats have been unable to practice outside.
"We just started throwing a little bit in the gym," Wible said. "But the gym isn't big enough to do all the drills we want to do, like practicing cut-off throws and fielding fly balls. So we're hoping it stays warm and we can get outside and do ground balls and everything else we need to do to be ready."
More like this story