De Soto-based Huhtamaki offers assortment of wellness initiatives for employees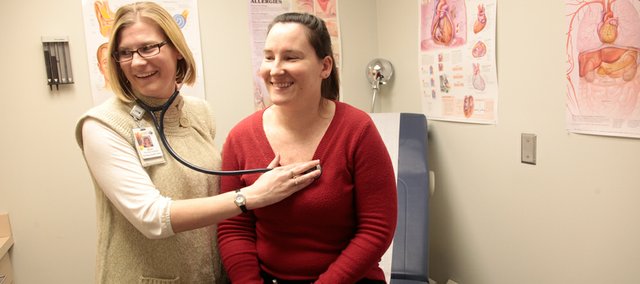 Businesses are stepping up efforts to keep employees healthy and productive and help keep insurance costs down.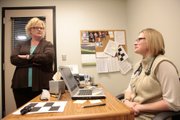 Huhtamaki, a De Soto-based specialty packaging company with about 400 employees, is among them.
The company — which operates 24/7 — formed a wellness committee in 2008, and it quickly began implementing changes.
"That's when we began taking a preventative, proactive approach opposed to a reactive approach," said Amy Peterson, human resources and safety manager.
In 2008, the company began providing an annual health fair for its employees where they can visit with the dental, vision and health insurance providers. A local pharmacy, Lawrence Memorial Hospital, and other vendors provide educational materials and free screenings. Last year, free pedometers were distributed.
The company also has quarterly education sessions on a variety of health-related topics. In the summer, there was one about skin cancer.
In January 2009, it opened an on-site health clinic that is available 10 hours per week for free to employees if they take a health risk assessment test. The test includes family history, height and weight measures, blood pressure check, and a blood draw. The results are sent to each employee's home. Employees are required to get the test every year if they use clinic, and more often if they have high risk factors.
About 260 employees use the clinic, or 65 percent.
The clinic is staffed by Kim Bogart, a physician's assistant at Lawrence Memorial Hospital, who can write prescriptions and take care of colds, rashes, infections, among other things.
Clinic convenience
Employees say the clinic not only saves time and money, but they get care that they likely wouldn't get otherwise.
On Tuesday, Sarah Ritchie, an employee, used the clinic for a persistent cough.
Since she lives in Lawrence, she often has to make doctor appointments for early morning or late evening, which often requires a longer wait to get in.
By using the on-site clinic, she signed up and got in the next day. It took 15 minutes and she didn't lose pay or paid time off. It also didn't cost her a penny. She was given a prescription for medicine.
"It's great," she said. "It is very convenient."
The company employs people who live an hour away in each direction, so the clinic comes in handy, especially for lab work.
For example, one employee needs blood drawn every two weeks. Instead of missing work, he gets it done in the clinic and Bogart sends it to his physician.
When Julie Stoetzer, of Mission, visited the clinic, Bogart noticed a clear, flaky spot on Stoetzer's temple and she recommended getting it checked by a dermatologist.
"She was very insistent," Stoetzer said. "I really would have blown it off."
It turned out to be cancerous, and Stoetzer had surgery to remove it. Luckily, it was caught early.
In May, the company is increasing the clinic hours to 13 per week.
Insurance adjustments
In 2010, the company initiated some wellness initiatives around insurance. It pays 100 percent of the costs for preventative care such as wellness exams, mammograms and colonoscopies. It also pays for smoking cessation products.
The company offers a monthly discount to employees who are nonsmokers. The discount ranges from $10 to $20, depending on the plan.
"So, we've got some incentives there for people to adopt a healthy lifestyle," Peterson said.
Bogart said she gave out at least 20 prescriptions for Chantix since the beginning of the year.
Huhtamaki updated the equipment in its fitness center, which is open at all times and free for all employees. The center includes two treadmills, two elliptical machines, a stationary bicycle, a stepper machine and weight machine. There's a television and iPod station.
To use the center, employees have to take a small training session. About 50 percent of the employees use the fitness center.
It also began offering healthy options, such as grilled chicken, in the cafeteria. There's a salad bar every day.
The facility also had a "Biggest Loser" contest last year. The contest was held over a 12-week period, and each participant put money into a pot. Bogart kept track of each participant's weight each week. She said 42 people participated, and the winner lost 68 pounds.
Huhtamaki's De Soto headquarters is the first to have a health clinic, but the company is opening its second one this year at an Ohio facility. Eventually, the company wants to have a clinic in all 10 of its U.S. facilities.
On average, the company spends $150 per eligible employee per year, and the management said it was well worth it.
More like this story