County recycling mandate gets cool reception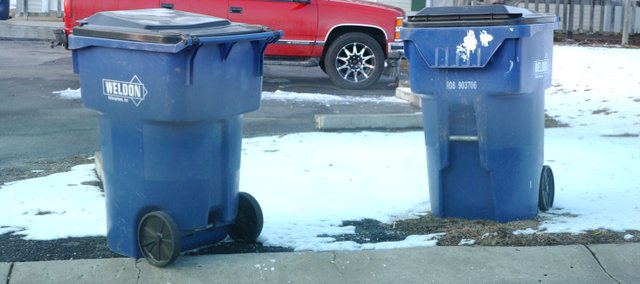 The Johnson County Commissioners want to have a public hearing about its new plan to make curbside recycling mandatory in the county.
But before that meeting was even scheduled, commissioner Calvin Hayden got an earful from some De Soto residents.
"You guys need to keep your noses out of our business," Bob Garrett said to Hayden. "I have a problem with the county telling us what to do."
During Thursday's regular De Soto city council meeting, Julie Coon, environmental specialist with Johnson County Environmental Department, gave a presentation to the council and to city residents about the proposed program.
During her presentation she said the county's current landfill, which receives about 5,000 tons of waste per day and around 2 million tons of waste each year, was expected to be completely full by the year 2027 if not sooner. The county's big worry was what will happen to the county's waste once the county landfill was closed.
"That many trucks, that much tonnage of waste having to be shipped out farther out — our cost are going to go up in the future unless we are able to protect our resources of landfills now to make them last as long as they can," Coon said. "Landfills are a resource and we don't want to be filing it with waste that we could be diverting.
"Because the diversion is county wide, we can prepare for the future and we can make these resources of landfill last as long as possible."
A recent waste evaluation showed that much of what the people in the county were throwing away could be recycled.
The study showed that 42 percent of all of the garbage being thrown out was paper, 13 percent was plastic, 11 percent yard waste, 4 percent glass and 3 percent metal.
The county's recycling rate is at 22 percent where the national rate is about 34 percent Coon said.
She and the commissioners hope that if curbside recycling becomes mandatory that rate will increase.
"We are well below the average, but we are a community considers ourselves to be above average, and we should really strive to be above average in our recycling rates as well," she said.
But Mayor Dave Anderson and other elected officials don't think forcing the county forcing De Soto into curbside recycling was right after the city council rejected such a plan three years ago. His biggest concern was the increase in user fees that would come with the new program. He said the proposed program wouldn't make residents recycle anymore than they already do, especially when it was to help protect a landfill that the city did not use.
Currently, the city's solid waste is shipped to the Hamm Sanitary Landfill in Jefferson County, while much of the rest of the county uses the Johnson County-Deffenbaugh Landfill.
"This is an imposed mandatory tax of the citizens of De Soto and it has no benefit," Anderson said.
He later corrected his statement and said it wouldn't be a tax, but an increase in waste removal fees.
Councilman Mike Drennon attacked the fee as a means for the county environmental department to keep itself going. He asked City Attorney Patrick Reavey if the city could opt out of the county's "Big Brother" requirement.
A Kansas Attorney General's opinion did state a county couldn't force a cities to use specified landfills, which suggested some precedent for opting out of county solid waste management plans, he said. He said any further discussion on the matter would be best done in executive session.
Anderson suggested a study be done to see if De Soto residents recycled more than the average Johnson County resident, because he believed they did.
Resident Lane Sekavec agreed.
"If you want to know how to reduce, reuse, recycle have a 10-year-old and a 5-year-old that go to Starside Elementary," Sekavec said. "When they started talking about that in school, if I there was something that could have been composted, recycled, reused, rebuilt or whatever, I couldn't get it into the trash can."
Councilwoman Mitra Templin disagreed with their observations.
"Whenever we have trash pick up, I cannot tell you how discouraging it is to see cardboard sticking out of these 95 gallon drums when it's so easy to take it down to the old Apple Market and put it into the bin, but people aren't doing that," she said "If you offer citizens the convenience of having curbside recycling they will use it and it will make a significant impact on the resources available to the broader community, which we are very much a part of."
She said she worried about what was going to happen in the future once area landfills start to close and they look at the Hamm landfill as a destination.
Coon said Hamm gets 1,000 tons of waste a day while the Johnson County landfill gets about 5,000 tons a day. This is not including waste that might be diverted to the Johnson County landfill when other metro landfills are closed once they are filled.
Coon said the 70-year life expectancy of the Hamm landfill will be greatly diminished once Johnson County starts transporting its waste there.
The county's proposed solid waste management plan update is currently being reviewed by the county legal department. The county commission is expected to consider it in May after it is published for a 30-day public comment period.
More like this story