City to use slurry seal in annual repaving effort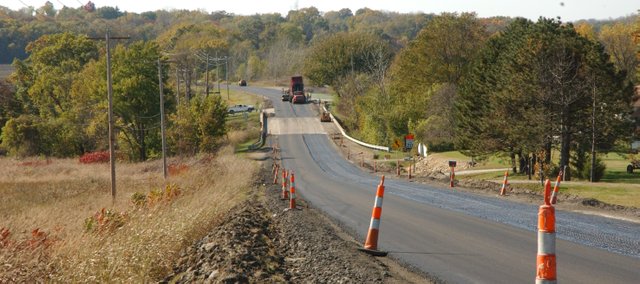 Summer street improvement season is right around the corner, but with limited funding the city is looking to stretch its dollars.
This year the street department has about $298,000 for street projects.
"Our total resources are limited this year, as far as city resources go," said city engineer Mike Brungardt. "We see if this trend continues we are going to fall further and further behind on what streets get any attention at all. Industry wide the less intense maintenance activities tend to be more bang for the buck."
During last Thursday's city council meeting, Brungardt presented the council with a couple of options when it came to this year's street maintenance.
Of the total amount in this year's budget, $49,000 will be devoted to mill and overlay work for Wyandotte Street from 83rd Street to the bridge. This project is a part of the Johnson County CARS program.
Another $74,000 will be set aside to mill and overlay 98th Street from Waverly Street to Post Oak Drive.
Then $30,000 will be used to seal cracks at various parts of the city leaving the department with about $144,000 for other street projects.
This money could go to milling and overlaying parts of Lexington Avenue, but it wouldn't get very far.
"If we just wanted to mill and overlay every street, we are just not going to get to them before they all fall apart," Brungardt said.
To stretch their dollars and instead of picking two streets to mill and overlay, Brungardt suggested treating multiple streets with a slurry seal to extend their life for about seven more years.
Burgardt said the slurry seal is an asphalt binder material that was about a quarter inch thick that will help fill some gaps and cracks, but will not create a smooth surface like an asphalt mill and overlay.
Councilman Ron McDaniel gave the project his seal of approval. He told the council how some streets in Prairie Village had been slurry sealed and still look the same after four years.
"It's still there," he said about the sealant. "They didn't have to do anything to that street."
The council unanimously voted to have Brungardt start the mill and overlay projects on Wyandotte and 98th streets and to move forward with the slurry seal projects.
In other business, the council:
• Directed City Attorney Patrick Reavey to draft a lease for the De Soto Cemetery Board to lease storage space at City Hall.
• Heard from Darrel Zimmerman about the De Soto Rotary Club's sunflower project. The club will be selling T-shirts for $20 and packets of seeds for $5.
• Unanimously approved resolution 866 authorizing improvements to the fire station and the issuance of general obligation bonds for those improvements.
• Unanimously approved resolution 867 authorizing staff, the city's financial advisor and bond counsel to proceed with the sale of bonds.
• Unanimously approved to have the mayor execute and agreement with Johnson County to provide FlexRide services.
• Unanimously approved resolution 868 supporting the use of housing tax credits for Valley Springs Homes Phase II.
• Unanimously approved to contract with Wald & Co. for $8,000 for the city's July 4 fireworks show.
• Unanimously approved the Kaw Valley Sportman Association's request for $786.