Wrestlers look to take next step in 2011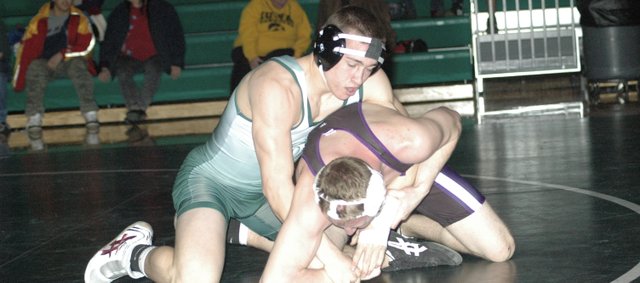 Shannon Sawner made it pretty clear last week that hardware is what he is most concerned with when it comes to De Soto wrestling.
The Wildcat coach doesn't just want to produce state qualifiers. He wants to produce state champions.
"We want to be the best," he said. "It's great to have kids qualify and win regionals, but our ultimate goal at De Soto is to bring home more trophies."
This year was a considerable step up for the program that failed to send any wrestler to the state tournament in the previous four years. Donny Parr (189) and Cole Cannon (160) competed in the state tourney this year.
"It will help us that those two guys will both be back next year," Sawner said. "Having the experience of competing against the best kids in the state is really valuable."
The experience is so valuable, Sawner said, that he was planning to create a schedule for next year that will give his wrestlers more opportunities to see the best in the state on a weekly basis.
"In order to improve, we're going to look at our schedule here and try to play around and see some of the best teams," he said. "Because those are the types of teams we will see when it comes to the state tournament."
A strong group of leaders, including Parr, Cannon and Brandon Vukas (171) will lead next year's squad. And Vukas was just one win short of qualifying for state this year.
Sawner said he hoped next year would jump-start the development of a winning culture with De Soto wrestling. The Wildcats struggled to win duals this year because they often left multiple weights open because of injuries or other ailments. But Sawner believes the squad will be deeper in the future.
"As coaches, we're trying to speed up the process for the younger guys," Sawner said. "We have a good group of coaches, a good system in place. We have 12 things that we try to work on every practice. Some kids pick it up real quickly and others take a little more time. We will just have to be patient."
More like this story