USD

232 Board accepts bargain bid for

DHS

expansion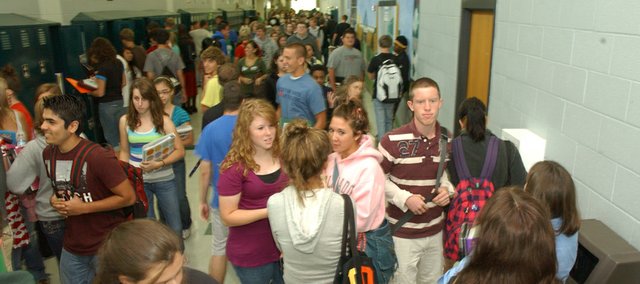 Bids for the expansion of De Soto High School came in so competitive that at least one USD 232 board member wondered if the district should move forward with the school's second phase expansion.
Mark Franzen, president of Horst, Terrill & Karst Architects, to the De Soto USD 232 Board of Education the district received 19 bids for the high school's expansion. The winning bid was about 30 percent lower than the $3.1 million estimated project cost, he said.
The bids ranged from $2.2 million to the estimated cost, Franzen said.
The board accepted the bid from Combes Construction Co. for $2.28 million. The bid included an alternate to construct 15 new parking spaces in from of the school for about $16,000.
In December, the board scaled back the $26 million expansion of school that was part of the November 2008 bond issue. That expansion would have included an auxiliary gym, and expanded library and media center, a number of new classrooms and a new administration area.
The scaled back expansion has three flex classrooms and connecting corridor, administrative office renovations, a secure entrance and a new arts wing with five new classrooms.
Board member Don Clark suggested the board consider completing phase II of the expansion with the bids coming in so low.
"You are saving right now," Franzen said. "If you need it and you can afford it, now is a good time."
Board member Randy Johnson abstained because he wanted to be consistent with his vote against the bond issue. Board member Janine Gracy was not present at the meeting.
More like this story