Center of attention
DHS

senior Stanley looks to lead soccer girls from middle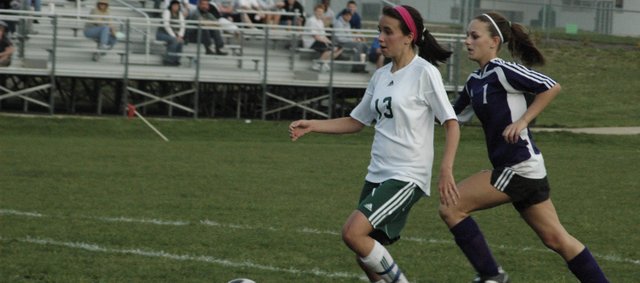 De Soto soccer coach Darren Erpelding is strategically placing his top-scoring senior, Carly Stanley, in the center midfield so the opposing team can't ably mark her.
That's the kind of talent Stanley brings to the table as the De Soto girls begin their 2010 soccer season.
"Putting her (Stanley) in the center mid is the only way we can halfway avoid getting her marked tightly," Erpelding said. "She will no doubt lead the team and score goals for us this year."
As for the rest of the team, Erpelding is excited about this season's prospects.
"I've been really pleasantly surprised so far," said Erpelding of his squad, now in its second full week of practice. "We've got some freshmen that have come in and will make an immediate impact. They will be able to fill some holes that we've been missing."
A few of those holes could be on the Wildcats' back line. Erpelding said expects his back three to be young players.
"We do have Danielle Dowdy returning back at sweeper, but she's suffered from a bit of a hamstring injury, and we're waiting for that. Cassie Zoller will be back at the right for us, but our left side will probably be a freshman or a sophomore."
Jamie Zvirgzdins looks return at keeper after posting excellent sophomore and junior campaigns for the Wildcats. But she entered the preseason, however, with a knee injury that's severity is yet to be fully diagnosed. If she is unable to play, Erpelding will move Megan Robinson, the team's stopper, to goalie.
Erpelding has high expectations for his front, including Nancy Marquez, who tallied four goals and four assists for the Wildcats in 2009.
"I'd like to see her double that total this year, maybe score eight goals and have eight to 10 assists," Erpelding said. "If she can do that, that would be huge."
Pairing with Marquez up front will most likely be freshman Michelle Keleher, who is already drawing comparisons to a previous De Soto star, Nicole Radcliffe.
"She might already be a little further advanced than Nicole was as a freshman," Erpelding said.
Despite all the apparent upside, the Wildcats will have a tough road ahead as they look to improve on a solid 11-win season last year because the schedule this year is more challenging and includes several out of conference games from opponents representing larger schools.
"We dropped Maranatha and added Bishop Miege," he said. "We still have Hayden, Shawnee Heights, Topeka-Seaman and Blue Valley. Those are some extremely quality teams right there. Any of them could probably make it to the state tournament."
The Wildcats open the season against Spring Hill March 25 at De Soto.