Mill Vally High School play promotes family values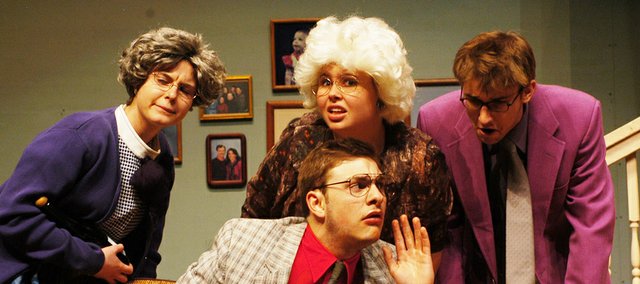 Blood is thicker than water.
And so, family takes center stage in Mill Valley High School's spring play debuting Thursday night.
"Over the River and Through the Woods" is the story of a young Italian-American man trying to understand his roots, while balancing family and personal life choices.
Rick Brown, play director, said the story is about understanding that you need to have wings and be able to take off on your own.
"It's about being your own person and how your family can help you out," he said.
Nick Cristano, the story's main character, has eaten Sunday dinner with his two sets of grandparents all his life. When he announces a promotion in Seattle, his grandparents scheme to keep him close to home.
With only six cast members, four of which portray elderly characters, preparation was of the utmost importance.
"In this show, of the six characters, four are playing people in their 70s and 80s," Brown said. "One thing we did was one Saturday we got together with a group of individuals in their 70s and 80s. We interviewed them and talked about families and growing up."
Cormac Badger, senior, said the meeting helped develop his character as far as mannerisms and walking around.
"We don't do a lot but sit around and talk," he said.
Brown said the meeting helped the cast understand a bit more of the mindset of someone in their 70s or 80s.
"It's a huge challenge to get 16- and 18-year-olds that are spry and physically fit to know that when you go up steps, it's not as easy," Brown said. "It was a fun experience for the older people and the kids, to have that time bonding. It was a really nice experience."
Brianna Winn, senior, said the show makes you want to spend time with your grandparents.
"It's really about the importance of family," she said.
Brown said a big draw for the audience is the experience of bonding with grandparents.
"This would be a wonderful experience for high school students to bond with their grandparents. It's one of the best outlets we've had," he said. "I encouraged the students to invite their grandparents. None of us spend enough time with them."
Because the show only has six cast members, a second spring show will debut at MVHS in mid-April, Brown said.
"This is the first time doing two shows," he said. "We have a lot more kids interested and the (theater) program is growing."
"Fifteen Reasons Not to be in a Play" will be directed by John Copeland.
Brown said the second play gives 15 more students the opportunity to stretch their acting muscles.
"Over the River and Through the Woods" debuts for Silver Cat members at 6:30 p.m. on Thursday.
The show opens for the rest of the public at 7 p.m. Friday and Saturday at MVHS. Tickets are available at the high school theater box office. Admission is $5, or $2 for Mill Valley students.