LTMS

service dog has full school of owners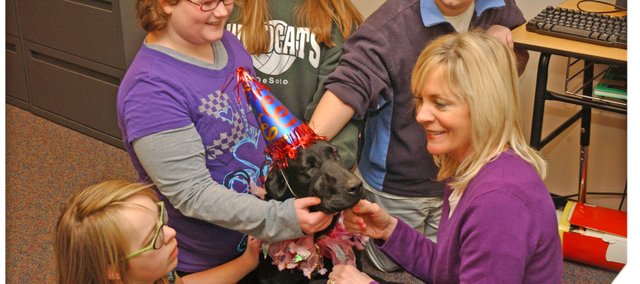 When Charlie Mayfield returned to school after her grandmother died earlier this year, she had a special friend to help her cope with the grief.
"She was with me in all day in my classes and through a test," the Lexington Trails Middle School eighth-grader said. "She helped me through a lot, actually, just knowing I had a friend.
"She's just a good girl."
On Monday, Charlie wrote a poem for the birthday of her friend, the 4-year-old black Labrador Abby.
As the school's service dog, Abby is part of the daily routine of Lexington Trails' students, greeting them when they arrive in the morning, attending their classes, "reading" with selecting students and bidding them farewell at the end of the day. She also gets pressed into special service with students in crisis, said Angie Russell, LTMS school counselor. That includes students in grief situations like Charlie or those otherwise having a bad day.
Abby, who is owned by Russell's Overland Park neighbors Wendy and David Erickson, seemed to have an innate sense of empathy for students under stress, Russell said.
"When working with kids with grief, she just seems to know — she'll sit with her head on their laps," she said. "If there is a kid who is really upset, she knows who to go to. She'll go right up to and nuzzle that student.
"We usually go for a walk to talk things out, and I let the student hold the leash."
Abby is also a reward for students who have met academic or behavior goals.
"The kids get to go out and play fetch with her," Russell said. "It's a question of who enjoys it more, Abby or the kids."
Abby's daily schedule includes visiting special education classrooms and helping with students with reading difficulties.
Such programs have proven to be very effective in improving reading skills, Russell said
"They read a book to her," she said. "They might be a little shy about reading to their peers, but Abby doesn't care if they make a mistake or not. Students are more willing to work on oral reading and fluentancy when reading to some nonjudgmental
Abby also serves as a way for students to see her and avoid embarrassment, Russell said.
"Kids might not feel comfortable saying 'I want to go talk to the counselor' because that has a stigma, but they call always say 'I want to go see Abby.'"
Abby has a sweet, calm personality that allows her to do her job well, Russell said. That disposition was further honed for her current job through training Abby and Russell completed this summer, which consisted of intense obedience training that taught Abby to sit and stay despite temptations or distractionsº, Russell said.
Now six months into the job, Abby loves her job, Russell said.
"When I open the gate in the morning, she come running to the car," she said. "She just loves to come to school."