Cat girls fall on Senior Night, at sub-state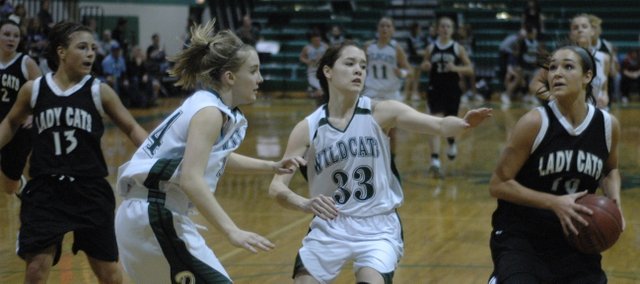 After a disappointing 45-35 loss to Louisburg on Senior Night, the Wildcats looked to bounce back in Monday's sub-state opener at Baldwin.
But the Wildcats were ice cold Monday, and had what coach Dwight Spencer called one of their worst shooting nights of the year. And the cold shooting led to a 53-27 season-ending loss to the Bulldogs.
"We just couldn't hit anything tonight," Spencer said. "I mean if you're going to have an off-night like we did tonight, you don't want it to be in a sub-state game. And you don't want to be playing a good team like Baldwin."
De Soto, the No. 7 seed, took a one-point lead early in the first quarter after a Katie Gorman field goal. But the Bulldogs finished the quarter on a 9-2 run, and earned a lead they would never relinquish.
Where De Soto missed on a barrage of open 12-footers, Baldwin shot tremendously, knocking down 50 percent of its three-pointers.
The Bulldogs jumped out of the gate in the second quarter to a nine-point lead, but a Tami Crow trey from the wing kept the Wildcats in the game. Crow, a senior, finished with five points in her final contest.
De Soto was within 11 points with a few seconds to play in the half when Baldwin's Taylor Brown came down and drilled a three with a hand in her face at the buzzer, and the Bulldogs took a 26-12 lead into halftime.
The third quarter was more of the same for the Wildcats offensively, scoring seven points for the entire period. Baldwin was consistent from the field and padded its advantage, earning a 42-19 lead going into the fourth.
The play of the fourth quarter came with just more than three minutes left. De Soto senior Kelsey Fisher drove the ball to her left and put up an off-balance 17-footer, scored and got fouled in the process.
"We're going to miss all four of our seniors," Spencer said. "Tami brings a lot of leadership and plays hard every day. She's also an excellent defender. It doesn't matter if it's summer ball or the regular season, she's always working. And Kelsey Fisher is one of the most talented skill players I've ever coached."
The Wildcats finished the year 9-12, but will return a solid core of players next season, including the team's leading scorer Shelbi Petty and forwards Katie and Ashley Gorman.
"We have a lot to look forward to next season," Spencer said. "It will be tough to lose four good players. But the girls we have coming back have some good experience. It's exciting for the program."
More like this story