Cannon takes two
DHS

sophomore wins two matches at State Wrestling Tournament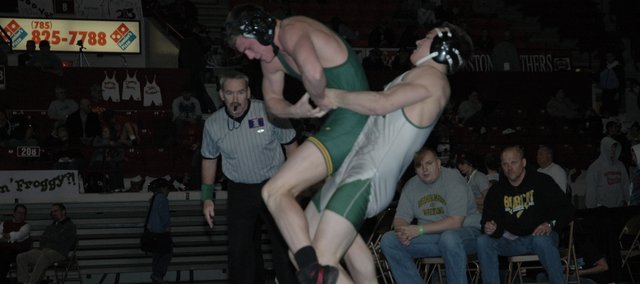 In his first campaign as a De Soto Wildcat after transferring from St. James, sophomore Cole Cannon finished just one match away from placing in the Class 4A State tournament last weekend in Salina.
The other Wildcat to advance through the regional to the state tournament was Donny Parr, who coach Shannon Sawner said wrestled well but was unable to win a match.
"Cole wrestled really well, he went 2-2," Sawner said. "He kind of had a tough draw. Donny lost his first match to a guy that took third place, and after he got upset in the first round, he just wasn't able to advance through."
Sawner said he expected Cannon and Parr to lead the team again next season, as well as Brandon Vukas.
"Vukas, when we get results back, he's a guy who beat multiple state qualifiers and state players," Sawner said. "He'll definitely lead us next year, too."
At the end of the 2009 wrestling season, Sawner said his goal was to build a program that would consistently send wrestlers to the state tournament. This year, in that sense, was a step in the right direction for the Wildcats.
"I think we're getting there," he said. "We gained good, valuable experience this year. And the good thing is that we're getting our two state qualifiers back, in addition to some other good wrestlers."
The Wildcat grapplers improved on their technique throughout the season, and their fundamentals were much better than when they started several months ago, Sawner said.
"We had a good system this year," he said. "We have to be patient and keep doing things right. Wrestling is not a sport where you can just pick it up and get better. You need repetitions. You have to be able to react."
Only graduating a few seniors, Sawner will return a strong core of athletes along with several freshmen that have already contributed at the varsity level.
"I think the freshmen, in some cases, their eyes were a little open," he said. "A lot of them thought, 'Oh, this is what it's like at the varsity level, and were a little nervous.' That's one of the neat things about wrestling, though, is that there are ways for freshmen to come in and find ways into a varsity spot. You don't often get that in football or basketball."
More like this story