Shawnee teen is library's writer-in-residence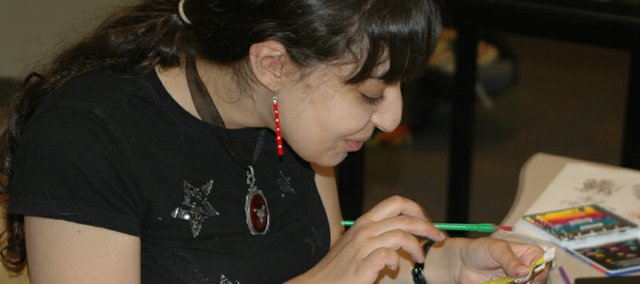 Ayah Abdul-Rauf became a published writer the first time when she was 13.
Now, working on her third book, the home-schooled Shawnee student is spending the summer at Johnson County's Central Resource Library helping younger students learn the essentials of writing.
Teen writer-in-residence is an annual program for teens ages 16 to 18 to showcase their talent by exhibiting their personal work, while offering workshops for youths.
As the teen writer-in-residence, Ayah spends an hour, from 4:30 p.m. to 5:30 p.m. each Thursday, working on her journal at the Central Resource Library. She also leads "My Imaginary Muse," a workshop for creative middle school students, ages 11-15, at the Central Resource and Shawnee libraries.
Ayah said she was asked to serve as writer-in-residence after the library helped her get her first two books published.
"They had a writer last year and decided to do it again, so I said yes," she said.
Ayah said she would teach and talk to her visitors about the creative storytelling process and her approach to a good story.
"I want them to see the value of heroism and the value of self," she said. "That's how I approach it. I'll show them journaling as well. I do a lot of mixed media journaling, where you take different mediums to make journal pages; it's an intricate part of the creative process."
Ayah started writing with what she calls an :unhealthy relationship with ink and paper."
"Before I could write, I would pretend to write," she said. "Then it turned into the alphabet, then heroes and it grew from there."
Ayah said her favorite part of her writer-in-residence position is knowing students are learning outside of the classroom.
"I hope they start learning more about themselves," she said. "Teens are always concerned about others. If everyone did what they wanted, they'd be much happier."
When starting a new book or journal, Ayah said she wouldn't always know what would come out at the end.
The book she's currently writing focuses on a young man whose brother was kidnapped. The main character tries to find his mother but not after many trials and tribulations.
The amount of time that Ayah spends on a book varies.
"My first book took me a year, the second took me about a month," she said. "One, I've worked on for seven years and it's still not done. To write a good book it could take a decade."
In her last year of home schooling, Ayah is looking forward to her future.
"Ideally, I will already have published my first novel, then I'll meet the most heroic man on the planet and live on the beach," she said. "But my parents want me to go to college and then have the relationships. That isn't so bad."
Although she's quickly growing up, Ayah said she's much younger at heart.
"I think I should be in fifth grade, I'd be very good in fifth grade," she said.
For more information on Ayah Abdul-Rauf's "My Imaginary Muse" workshops, visit jocolibrary.org.
More like this story