Second half surge
Wildcat girls win three of four games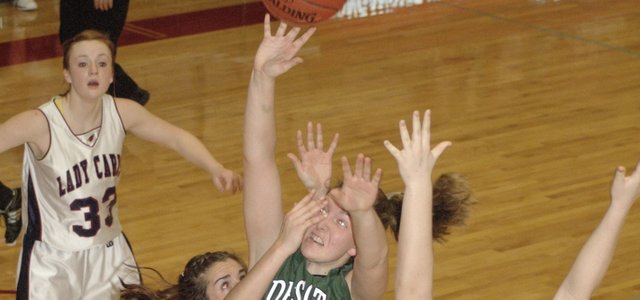 The De Soto girls basketball team was fine with having to play Saturday in the final round of the Tonganoxie Invitational.
The Wildcats, though, wanted to play on Saturday night and not in the morning. And if not for their first-round loss to Chanute, they likely would have.
After losing to Chanute, the Wildcats beat Jeff-West 61-56 on Thursday and beat Eudora 44-37 Saturday in the fifth-place game.
"I think we were definitely in the tougher side of the bracket," coach Dwight Spencer said. "If we get in the other half, we're probably playing this evening. But that being said, the girls did what I asked them to do. We got two wins out of it. That's the first time we've done that at the Tonganoxie Tournament, so that's a step in the right direction."
Against Jeff-West, tough defense in the final minute saved the Wildcats, after converting on just 7-of-15 free throws in the quarter. Shelbi Petty led the team with 28 points and Ashley Gorman had eight.
Against Eudora, De Soto trailed at the end of the first quarter, but outscored the Cardinals 22-10 in the second quarter to retake the lead. Katie Williams scored 13 points and pulled down 10 rebounds in the game.
"I'm more impressed with the rebounds than I am anything else," Spencer said. "Rebounds and just moving and running the floor will lead to her getting points. But the rebounds is what we need to be consistent on."
Pettty scored 15 points, Katie Gorman added 10 points and seven rebounds. Petty also was named to the All-Tournament team. The win marked the team's sixth of the season, which is already twice as many as last year. And there could easily be a few more tallies in the win column.
"A couple of them I thought we let get away," Spencer said. "We could definitely have a better record, and hopefully we get off to a quick start in the second half and get some momentum."
De Soto followed that up with an 81-18 victory on the road Monday at Washington.
De Soto jumped out to a 21-7 lead at the end of the first quarter and took a commanding 45 to 9 lead at the half. De Soto then put up 22 points in third and 14 more in the fourth quarter.
Petty scored 20 points, Katie Gorman had 14, Ashley Gorman 10 and Kelsey Fisher and Jesse Spencer had 11 apiece.
De Soto traveled back to Tonganoxie Tuesday night to take on the Chieftains, but fell 60-44.
De Soto trailed by just one at 12 -11 at the end of the first quarter, but was outscored19-9 in the second quarter. Petty led the team with 13 points and Katie Gorman and Tami Crow had nine apiece.
De Soto (7-6) will play Feb. 2 at Paola.
More like this story