Teamwork key to success for
DHS

Scholar's Bowl team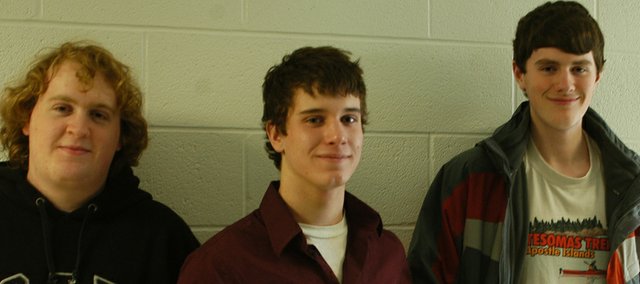 Teamwork is the key to the De Soto High School Scholar's Bowl team this year.
"This year, we have a bunch of good kids," Phil Hamilton, team sponsor, said. "We've spread out the work."
The depth is in contrast to the team of a year ago, which was lead primarily by senior Ashley Sweeney. This year 12 to 13 students share the varsity spotlight.
"We talk a lot more," Joey Kuhn said. "Last year, Ashley answered a lot of the questions. This year, we all help out more."
Kuhn said team members average between one and two questions answered per round.
Robby Satterwhite said the team works together to get answers now.
"Last year we had a senior that carried the team," he said. "This year we all work together to get the answers."
Hamilton said Scholar's Bowl isn't an X and O play-driven activity, but it is competitive.
"There is teamwork involved and the kids rely on each other," he said. "We're making sure people are communicating with each other. That's the key."
Just last week, the varsity team made a trip to Eudora for Frontier League competition. The team placed second out of eight schools. That same day an additional varsity team placed third at the Perry-Lecompton event.
"We've had the opportunity to go to more competitions because Mr. (Peter) Harley is co-sponsoring the group this year," Hamilton said. "It's been a good year."
Another change comes in the set-up of Scholar's Bowl. In the past, only four students were able to compete each round. Now, five students stand-up for the tear. Additionally, one alternate is allowed to travel to meets with the team, switching out after each round.
The increase team membership from 20 to 25 students, additional meets and the changed participate rules have made a difference, team members said.
"It's a nice luxury to sign up for all the meets in the area," Hamilton said. "Twenty to 25 students is a big amount for a school our size. We have a schedule large enough and a team small enough that everyone gets a chance to go to a few meets."
The team is also diverse in other extra-curricular activities.
Many students are involved in school plays, musicals, band and cross country, Hamilton said.
When some students can't go because of things like cross country the team has enough members to swap in, Hamilton said.
"Unlike basketball and football, Scholar's Bowl directly relates to what students are learning in school," Hamilton said. "Being part of that extra academic atmosphere for a few hours a week is nice to be exposed to."
With the three and a half months long season coming to an end, the team has picked up practices a bit, Hamilton said.
"We're trying to be more focused and competitive in practices," he said. "We're working more toward specific questions and trying to be more efficient."
The team is focused on Regional competition on Feb. 4. Where the team of Philip Kaul, Dalton Tenney, Joey Kuhn, Ryan Scott, Ryan Endres and Robby Satterwhite, whom participated at the Frontier League competition, will try to advance to the state bowl. The top two teams at regionals advances to state finals in Topeka.
Last year DHS placed fourth at state.
"We have some of the sharpest kids in the building on Scholar's Bowl," Hamilton said.