Restaurant changes hands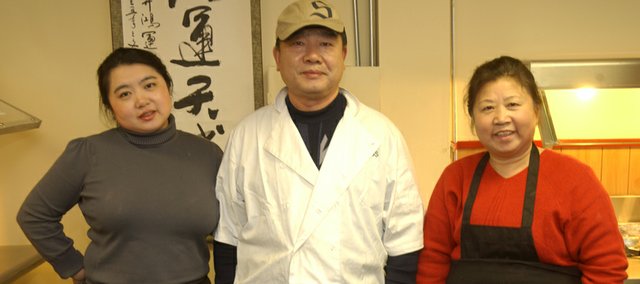 As you might expect, the Lucky Garden Chinese Restaurant serves Chinese food, but not the kind that would be popular in China.
Owner Hong Westmoreland said the restaurant, which opened this month in the location of Yan's Chinese Restaurant, serves Chinese food that appeals to Americans' taste and not those of her native China.
She should know, Westmoreland and her family were in the restaurant business in the northern Chinese city of Sheng Yang before she came to America in August 2006 to marry her husband Jeff Westmoreland.
"Chinese people like to taste sweet, sweet; sour, sour; or salty, salty," she said. "They don't like the mix. Chinese like food steamed, not deep-fried like Americans like."
Her mother Zhoa De Ying and father Liu Xue Zhong help at the restaurant.
Westmoreland became acquainted with American-style Chinese food by working at Bo Ling restaurant in Overland Park. She purchase Yan's after seeing it advertised in a metropolitan area Chinese newspaper.
The menu is much the same as the former Yan's with lunch and dinner buffets that include children's sizes. In addition, the restaurant offers ala carte Chinese dishes and house specials.
Food can be ordered for take out, and Westmoreland said she might offer delivery at a later date.
Westmoreland said she and her chef tweaked the menu a bit to the satisfaction of its early customers.
She has also cleaned and remodeled the interior. That effort included installing a new carpet and moving the cash register counter. The latter move provided enough extra space for the installation of booths.
That work, too, has meet with the approval of early customers, Westmoreland said.
"I've had customers say it's very clean and looks different," she said. "They said the food is excellent.
"I like the customers. I want to be here a long time."
The Lucky Garden is open from 11 a.m. to 9 p.m. Monday through Thursday, 11 a.m. to 9:30 p.m. Friday and Saturday, and 11:30 a.m. to 9 p.m. Sunday.
More like this story