Former engineer finds teaching rewarding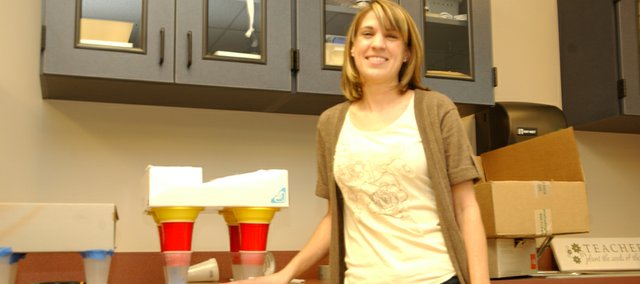 Asked to cite a memorable moment in the seventh-grade industrial engineering class Tara Wycoff teaches at Lexington Trails Middle School, three of her student spoke in unison of an assembly line exercise.
"We had different stations where we would put on Lego connectors, and there was someone who checked to see if it was done right," Kelista McGraw said.
"It was our way of learning about assembly lines instead of just reading about it in a textbook," Morgan Stonestreet added.
"It made the test easier," said Adam Wilcox.
Given her background, it's not a surprise the second-year teacher would be drawn to real-world examples. In an age when career changes are commonplace, Wycoff admitted hers was a bit different.
After earning a undergraduate and master's degrees in engineering from the University of Michigan and working eight years with the Chicago engineering consulting firm Accenture, she left the field to become a teacher.
"People who knew me well didn't raise an eyebrow because they knew it was something I wanted to do, but there were more casual acquaintances who were surprised I'd leave engineering for teaching," she said. "Teaching for me is really rewarding,especially with this age group."
The money isn't as good, but teaching does allow her to avoid the travel required while working on information technology projects for Accenture clients.
"The hours aren't necessarily better," she said. "They do say teaching gets easier the more years you do it, so I'm hoping that is true.
"I do go to a lot less meetings now."
Her first year may have been hard, but her efforts didn't go unrecognized. Wycoff learned last week she was one of about 30 first-year teachers for the 2008-2009 school year designated as a Kansas Horizon Award winner.
After earning her teaching credentials from DePaul University in Chicago in 2008, Wycoff started looking for work in the Kansas City metropolitan area where she relocated with her husband, Chris.
"I interviewed for two jobs in one day," she said. "As soon as I heard about the curriculum here, I was sold."
The curriculum is an engineering applications program consisting sixth-grade class in aviation, seventh-grade industrial engineering class in industrial engineering and eighth-grade architectural engineering class Wycoff teaches at the school. In addition, Wycoff teaches classes in algebra, geometry and economics.
Mark Schmidt, district human resource director, said Wycoff's resumé appeared as the district was looking candidates for middle school engineering application teacher.
"You don't usually see people with actual engineering experience," he said. "Generally, you look for people with math or science backgrounds."
Wycoff was on paper an outstanding candidate, Lexington Trails Middle School Principal Steve Ludwig said. She has since demonstrated innate teaching abilities that augment her background, he said.
"Her resumé did stand out," he said. "Typically, you don't find someone with an engineering background to teach an engineering applications class., but that's not just what she's about. She came in able to relate to the kids and get them to find passion for the classes she teaches.
"That's not something she learned in a college classroom."
As an example of the Wycoff's inventiveness, Ludwig cited a recent industrial engineering class project in which she had student teams craft a coin sorter out of such things as cardboard, tape and plastic bottles and cups.
The remains of the projects were scattered across counters Tuesday in Wycoff's classroom.
The engineering applications classes are meant to give students an understanding or what engineers do through problem solving and teamwork, Wycoff said. The nature of the curriculum encouraged innovative teaching approaches, she said.
"I think it encourages me because it lends itself to projects and interesting things you can do," she said.
The teams work on the projects through a step-by-step process that includes brainstorming, design drawings and oral presentations, Wycoff said.
Math and science are at the heart of engineering, and they are part of Wycoff's engineering applications classes. But she said they class is accessible to all.
"We do a lot of math, but I try to make the math simple enough all students benefit from the class," she said. "For those students stronger in math, I give them additional things to do."
That doesn't mean a lot isn't asked of her students. Her geometry class is teaching subject matter formerly introduced in high school and the engineering and economics class are introducing concepts such as ergonomics, supply chains and supply and demand she didn't learn until college, Wycoff said.
"I think it's great we're starting to teach things I didn't learn until I was in college," she said. "It can only make kids more ready for the working world."
Wycoff's road to the Horizon Award started last year with Ludwig's nomination. A district committee then selected on the basis of her application and reference letters from administrators, students and fellow administrators at the school. That process was then repeated on the state level.
With the award, Wycoff will now join the about 30 other state Horizon winners as member of the Kansas Exemplary Educators Network, an
"I'm not sure of all the details, but I'll be going to workshops and conferences to learn things I can come back and share," she said.
As for her future, Wycoff said she wasn't looking for another career change soon.
"I think for awhile, I'd like to stay in the classroom," she said. "I can see myself in the future getting into administration or curriculum planning. That would be something interesting for me."