Coming together
Wildcats claw Cardinals, advance at Tonganoxie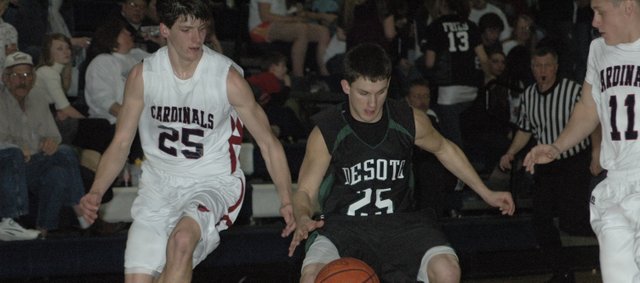 Despite not having a healthy squad Friday at Eudora, the De Soto boys team played one of its best games of the season.
While Jon Hastings had surgery prior to Friday's game on his thumb and is now out for the year, in the first half De Soto also suffered another blow when guard Mason Wedel went down with a shoulder injury. But the Wildcats rallied and knocked off the Cardinals 49-40.
"Those two things happen, and it obviously it put us in some major adversity," coach Jim Bonar said. "And we talked that it had to be defensive rebounding, and we had to shut them down."
De Soto trailed 6-0 early, but Dylan Burford and Wedel drained threes, and baskets by Aaron Nutterfield and Daniel Peterson put the Wildcats down just three at the end of the first quarter.
During the final three quarters of play, De Soto owned the glass and outscored Eudora 39-27.
"That third quarter, the group that I had out there never came out," Bonar said. "They controlled the boards and the tempo. They got the ball inside and scored."
During the third, the 6-foot-7 Nutterfield scored eight of his game-high 15 points. Peterson also scored five of his nine points in the quarter, including a big three-pointer.

"It's one of those things when somebody goes down, somebody else steps up," Bonar said. "Guys like Peterson are tough strong kids, and they want to go up and get a chance to get out there and rebound, and they are physical. That's one of the things he brings to the table."
De Soto increased it's lead over Eudora to 11 points late in the fourth before Eudora cut he lead to five with two minutes to play. But baskets by Peterson and free throws by Nutterfield and Brandan Philbrook sealed the victory.
Against Atchison Monday in the opening round of the Tonganoxie Invitational, the Wildcats were again shorthanded, as Hastings and Wedel did not play. But the Wildcats defeated Atchison 57-45 and are looking to win the tournament for the second straight year.
Without Hastings and Wedel, Bonar told his players they shouldn't be down in the dumps.
"Think about it as if they were in foul trouble, you guys wouldn't be feeling the same way then," Bonar told the Wildcats locker room before the win.
It took about a half and a lineup tweak for that message to sink in. De Soto was tied with Atchison at 27 after two quarters.
But DHS opened the second half on a 20-4 run that lasted more than a minute into the fourth quarter.
The defense picked up, Bonar said, due to the play of John Williams, who didn't play a second in the first half.
"We were just trying to find a lineup out there that looked like it clicked, and he happened to be the one guy," the coach said of Williams. "He didn't come out until the very end."
Not only did the sophomore open the third with a steal and a layup, but he helped limit Atchison's star guard, Cezanne Burnes, to 12 points off 2-for-9 shooting.
From an offensive standpoint for DHS, Peterson scored seven of his 13 points in the third quarter and Joey Johnson put up nine of his 11 points in the fourth.
Philbrook scored nine points and grabbed team-high 12 rebounds.
De Soto (7-3) will play Silver Lake at 4:30 p.m. Friday in the semifinal game at Tonganoxie.
More like this story