Cat girls top Cardinals, fall at Tonganoxie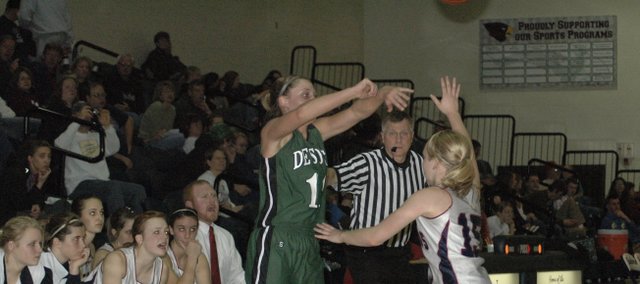 The De Soto girls basketball wasn't about to let this win slip away.
Facing rival Eudora Friday on the road, the Wildcat girls first used their height inside to own the glass. Then its tough defensive play was so strong, it held Eudora to just 10 points in the second half, and the Wildcats cruised to an easy 47-30 victory over the Cardinals.
"We had a lot of girls contribute on the boards, especially in the second half," coach Dwight Spencer said.
Sisters Katie and Ashley Gorman and senior Katie Williams were active on the offensive glass and scored on easy putbacks all night. Katie Gorman led the team with 10 points, and Williams added eight.
While De Soto out-rebounded its opponent, Spencer was most pleased with his team's improved movement on the offensive end of the court. Better player movement led to better passing lanes, and easy shots inside.
"Overall we got a lot better movement and it showed," Spencer said. "We got a lot better shots and had a lot more shots inside tonight than we've had in a while."
While the girls won by 17, the game was as close as six points early in the third quarter. When De Soto guard Shelbi Petty, who scored eight points in the game, went to the bench with her fourth foul just two minutes into the second half, that could have been a prime opportunity for the Cardinals to cut into the lead. But instead, the Wildcats increased their lead as Williams, Katie Gorman and freshman Taylor Saucerman made shots.
Kelsey Fisher, who scored four points, also went to the bench late in the third with her fourth foul.
"I wasn't real comfortable, but I'm really proud of the rest of the kids," Spencer said. "They really pulled together again and really moved the ball inside, and we were able to attack the board and follow.
"And we were able to extend the lead while she (Petty) was out, and that's a huge step for us, in my opinion. Shelbi's a heck of a player, our leading scorer. And to have her sitting on the sidelines and extend that lead, that really shows a lot of character in the rest of our kids."
Against Chanute Monday in the opening round of the Tonganoxie Invitational, the Wildcats led by one at the half, but couldn't hold the lead in the second half as foul trouble and turnovers doomed the Cats late and they lost 47-37.
Fisher scored 10 points, Katie Gorman had nine, Crow and Ashley Gorman scored seven apiece.
De Soto will play Jeff West at 3 p.m. Thursday in Tonganoxie.