Wildcat offense goes ice cold, boys fall 47-33 at home to St. James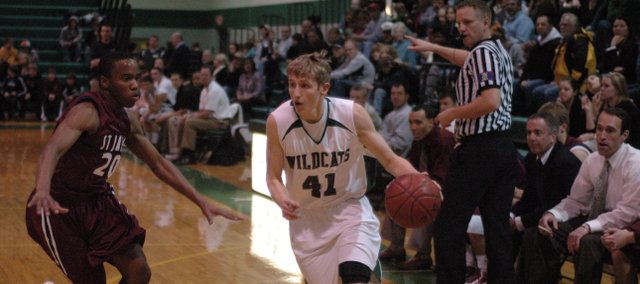 Boys coach Jim Bonar wasn't sure if his team's two-point first quarter was a record. But he was certain that his team's 47-33 loss to St. James Tuesday night made for a record he didn't expect to see.
"This was the poorest output offensively I think I've ever had as a coach anywhere," Boar said. "There was no flow at all. And St. James did a great job on defense, I'm not going to take anything away from that. But we had no rhythm, no flow."
While the Wildcats struggled to make shots, the team also was out-rebounded. But De Soto's defensive pressure hounded the Thunder all game long, and that pressure turned into fastbreak points for the Wildcats.
"Most of our buckets came off the defenseive end, which I thought we played very well tonight," Bonar said. "We did a nice job on defense — we didn't rebound — but defensively we got better tonight."
It was De Soto's tough interior defense led by Daniel Peterson that held the Thunder's 6-foot-6 Clint McCullough to four free throws and shoot 0-7 from the floor in the first half.
Mason Wedel scored De Soto's only two points of the first quarter via two free throws, but then erupted for 10 of his game-high 15 points in the second quarter. Joey Johnson and Brandan Philbrook were the only other two players to make a shot during the first half. But De Soto hung tough and trailed by just three at 19-16 at the half.
Philbrook opened the third quarter by converting two steals into layups, and the Wildcats took their first lead of the game. But that lead was short lived, as the Thunder went on a 6-0 run and didn't look back.
De Soto (5-3) will begin league play Friday at Eudora.
"We know we're going to be in for a fight Friday night on their home court," Bonar said.

More like this story