One that got away
Girls start strong but can't hang on in 54-43 loss to Thunder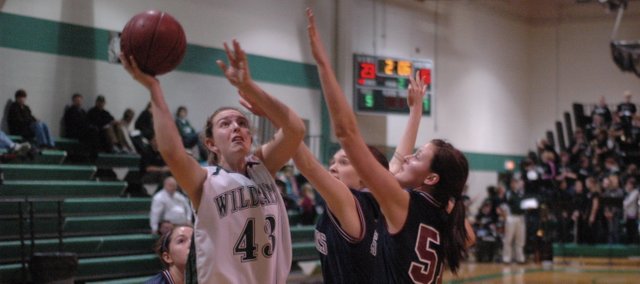 De Soto girls coach Dwight Spencer said this one really hurt. And he hopes his team feels that same pain.
The Wildcats roared out of the gate Tuesday at home against St. James with 17 points in the first quarter, and held an 11-point lead. But the Wildcats scored only twelve total points in the second and third quarters, and the Thunder scored 25 points in the fourth and beat the Wildcats 54-43.
"I thought we let one get away," Spencer said.
The key play in the game occurred when De Soto was leading 23-17 with just over a minute to play in the first half. The Wildcats were running down the clock, looking to take the last shot before half. But De Soto was being careless with the ball. Fearing a turnover, Spencer called timeout.
But moments after play resumed, Spencer's worst fears came true as the Wildcats turned the ball over, and St. James streaked up the court and scored a layup that cut the lead to 23-19 at the half and gave the Thunder momentum heading into the break.
"We were not moving offensively," Spencer said. "We almost turned it over two or three times before that, and they just weren't making any hard cuts. And I felt like we were going to turn it over if we kept doing that, and we just didn't make the pass and catch. It's just playing catch sometimes and we didn't."
While De Soto looked impatient on offense, it also struggled to hit shots. Open threes or shots from inside that normally fall wouldn't, except during the first quarter.
"We couldn't hit shots," Spencer said. "No matter what happened on offense, we couldn't hit shots. I didn't feel the entire game we got good movement with the ball or with our cutting. It was lazy cuts. Offensively we're not going to do anything if we don't work hard. And we didn't work hard. We were waiting for an easy shot or Shelbi (Petty) to do something."
Petty scored a game-high 22 points and freshman Taylor Saucerman scored four points, including a field goal that tied that game at 29 to end the third quarter.
"Taylor's a good player, and she plays with a lot of confidence," Spencer said. "And she's going to be a great player. She has a chance to be a great player if she works hard. And so far, what I've seen is she does work hard and does everything I ask of her."
In the fourth quarter, the Thunder's Bethany Smith scored 12 of her 18 points, and De Soto couldn't complete the comeback.
The Wildcats (3-4) will play Friday at Eudora.

"I can't wait until Friday and get them back on the court and get this taste out of my mouth," Spencer said.