Building momentum
Cat boys on a roll heading into clash with Panthers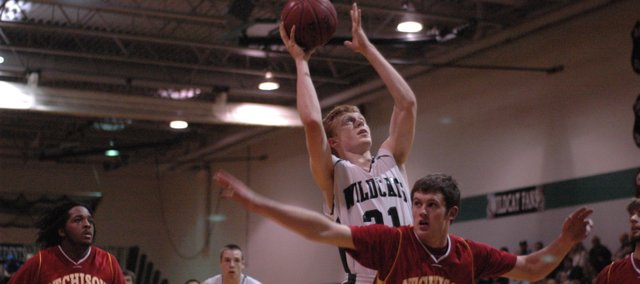 After an impressive 64-56 victory over Wyandotte and a 5-2 start to the season, Jim Bonar's squad looks to build on its momentum as it embarks on the conference portion of its schedule.
The Wildcats open 2010 league play with a showdown Friday at Paola. Paola, Bonar said, was a year older than last year and he expected it to be another competitive contest.
"They played young last year and they have a lot of experience coming back," Bonar said. "They're a very physical, solid team."
Guard Isaac Cotton and center Travis Hayes lead the Panthers.
"Hayes is a really nice, solid player inside, and Cotton plays well outside," Bonar said.
The Wildcats will need to showcase some physicality Friday if they want to stay competitive with an aggressive Panther squad, the coach said.
"I think if we can match their physical play we will match up well with them," Bonar said. "I think they've got some match up problems with us, too."
One player Bonar is counting on to continue his physical presence inside is senior post player Daniel Peterson.
"He's really coming on strong for us in that category," he said. "Daniel will be getting more time in the low block, and (Paul) Stallbaumer and (Jeff) Bowen bring a lot of physicality as well."
In addition to playing with some edge, the Wildcats will need to make sure they're out of the holiday mindset and ready to get back to work.
"I think the guys will be antsy and ready to play," Bonar said. "They should be ready to get back to playing somebody besides themselves."
De Soto has a crucial set of games on the slate for the near future, as it will play St. James and Eudora next week.
"This is a really important stretch for us," Bonar said. "Paola and Eudora are always really tough."