5 questions: Ron Creason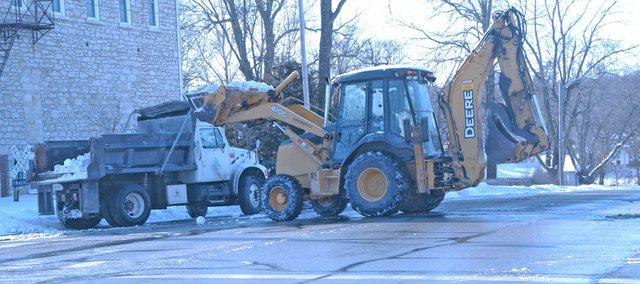 Q: This year's Christmas blizzard has been called historic by some in the local media. How was it from your experience with the De Soto Street Department?
A: It was definitely one of the worst — just the amount of snow and the wind. For example, we would plow 83rd Street east of Kill Creek Road east to the city limits and when we turned around and came back, it was like we never put a plow on it.
We were out treating roads with salt and chemicals from 2 p.m. Christmas Eve when the rain started turning to sleet and then changed over to plowing when the snow started. We worked two shifts of 12 hours Christmas Day, Saturday and into Sunday when we got ahead of the game.
Q: What equipment did you use?
A: We utilized four trucks, a motor grader, skid steerer and backhoe.
Q: What priority do you use to clear streets?
A: We do thoroughfares first and then secondary or collector streets. Residential streets are last. The city's thoroughfares are 83rd Street, Penner Avenue, Lexington Avenue and Kill Creek Road.
Q: Is there any advice you would give to residents in regard to helping with city snow removal efforts or driving with streets in their current conditions?
A: Residents can help us if they use off-street parking. We would ask them to move parked cars when they are parked across the street from another parked car. When cars are parked on both sides of the street, it's very hard or impossible to get a plow down that street.
People should remember when temperatures get down to sub-zero, the salt and chemicals we put on the street are minimally affective. Streets could be slick even though they have been treated.

Q: Two years ago, salt was scarce late in the winter. How is the city's supply this year?
A: We had 450 tons of salt before the first storm. I'm going to say we have 150 tons left. I have 150 tons on order. I'm hearing supplies are just fine, right now. I did ask when I made my order.