Starside news flash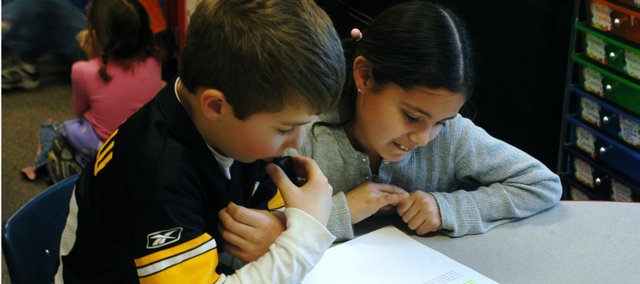 No one said there was an age limit on technology, young or old.
Second-grade students at Starside Elementary School have been delving into the realms of technology with weekly podcasts.
The Starside 2 News, otherwise known as Jennifer Wiltse's second-grade class, produces a three to five minute podcast each week.
Each day after class, students summarize in their own words the days lessons and events. On Friday, Wiltse compiles the summaries to make a script for students to record on MP3 players.
"We try to cover every subject of the week," she said. "The kids are the writers of their day. They tell me what they want typed, so it's more in their voice."

Students generally volunteer to read each week, with two students splitting each day.
"We usually have half the class in each week," she said. "If they aren't in one week, we try to make sure they are in the following week."
After the week's events are recorded, Wiltse edits and posts the recordings on the class blog, www.jwiltse.edublogs.org. www.jwiltse.edublogs.org. Parents can listen to podcasts and make comments on the site.
Wiltse got the idea for the podcasts while studying for her master's degree.
"I was taking a technology class, and they talked about technology and kids," she said. "That year, I tried it with just a few kids."
In the fall of 2008, Wiltse and another teacher applied for the Spring Achievement Grant. The $3,699 grant was used to purchase MP3 players, sound editing software and fluency reading practice materials.
Wiltse said all Starside second-grade classrooms now have the ability to produce podcasts.
Second-grader Arianna Carlos said she liked recording what she did during the week like reading.
"I love going to the Web site and listening to it," she said.
Dylan Nimrod, second grader, said almost everyone got to participate over time.
"Oh yea, it's fun," he said. "Our parents get to listen on the Web site and get to comment on what we do. It's fun to see what they write."
Wiltse said parents have given good feedback on the site.
"They know what's going on in the classroom and the kids love the technology," she said.
The age of her students was never an obstacle for Wiltse.
"In the class I took they portrayed it for older kids, but in my experience even the younger kids pick up on technology easy," she said. "We've had no problems. They can do it all on their own."
Wiltse said the podcasts have helped her students, but not just with technology.
"It's helped reading fluency," she said. "We've talked about reading with expression and reading with a good voice. It's been good motivation for them to practice. Even kids that don't like to read in class volunteer to read for the podcasts."