Girls fall at Gardner, home to Baldwin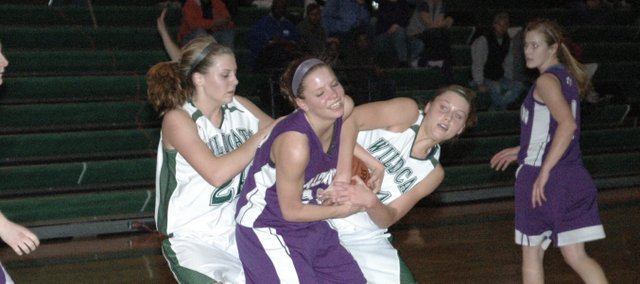 For a quarter of play Friday, the visiting De Soto Wildcats looked poised to pull off the upset against an athletic Gardner team.
But a huge 24-7 Trailblazer run that spanned the length of the second and third quarter effectively ended any shot at a Wildcat victory, and Gardner won convincingly, 47-25.
Shelbi Petty led the Wildcats out of the gate when she drilled two three-pointers from the corner to give DHS a 6-0 lead. But open looks were few and far between after that and Gardner began to take control of the contest. In fact, the Wildcats shot a meager 20 percent from the field for the rest of the half.
"Gardner is a really athletic squad," coach Dwight Spencer said. "When you have girls that are stronger and faster like they were, you're going to have turnovers."
The teams entered the second quarter drawn at eight apiece, then Trailblazer guards Cassie Wait and Jalisa Brice caught fire, boosting Gardner to a 19-11 halftime lead.
The third quarter was much like the second, with De Soto struggling to find quality looks at the basket.
"We did not do a very good job of getting open," Spencer said. "And you're always going to have a lot of turnovers when there's no place to pass the ball. That's kind of what happened to a large degree. We couldn't get open in spots where we wanted the ball."
With a 36-18 Gardner lead at the end of the third quarter, Gardner was able to get its bench involved. While no Trailblazer scored in double figures, 11 different girls registered points.
Petty led the Wildcats with nine points and Katie Williams shot in seven. As a team, De Soto shot 28 percent from the field and hit just two of seven free throws.
Gardner, on the other hand, took care of business from the foul stripe, knocking down 75 percent.
De Soto also played Baldwin Tuesday at home and lost, 57-42.
The Wildcats led for only 23 seconds early in the contest. For the other 31:37, the Bulldogs controlled the game.
De Soto led 3-2 after a three-pointer by Kelsey Fisher at the beginning of the game, then Baldwin went on a 12-0 run and didn't look back.
Petty led De Soto with 13 points, Katie Gorman and Katie Williams chipped in seven, and Ashley Gorman and Tami Crow scored six.
De Soto (9-10) will play Louisburg Friday on Senior Night in De Soto. Seniors Crow, Fisher, Williams and Jordin Burford will be honored. It also will be the Wildcats' last game of the regular season before opening sub-state play next week.
The Wildcats will play at 7 p.m. Monday at Baldwin in the first round of the tournament. The following rounds of the tournament will be played at Basehor-Linwood.